Hockey Now Mock Draft Has Blackhawks Taking Cristall at 19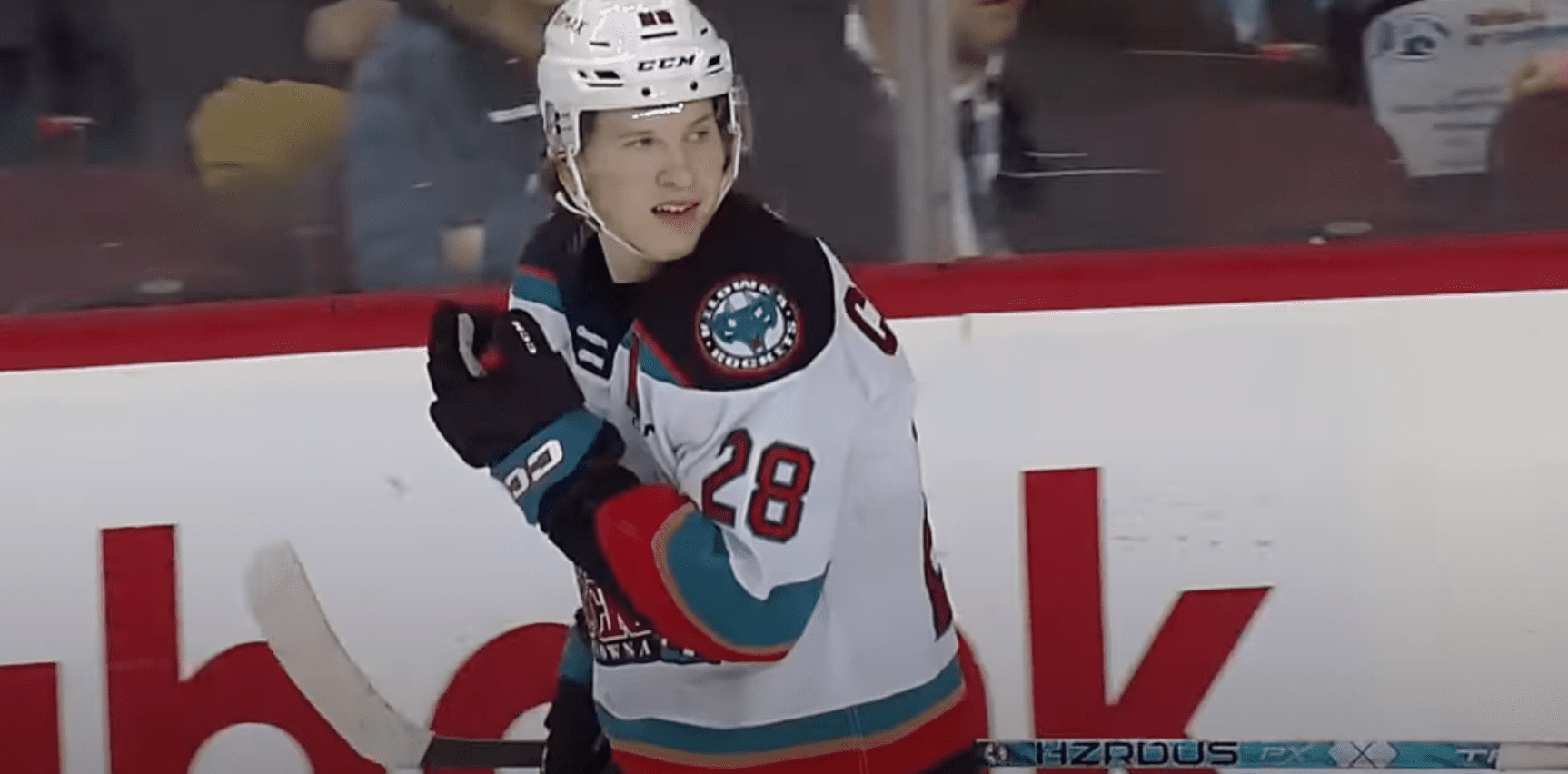 Our colleagues over at Montreal Hockey Now put together a terrific mock draft prior to the Lottery on May 8. Now, they've re-upped, making a new one post-lottery and well, everyone in the hockey world knows who the Chicago Blackhawks are taking. So after Connor Bedard, who will Chicago take with the 19th overall pick in the draft?
Montreal Hockey Now's Marco D'Amico has the Blackhawks selecting left wing Andrew Cristall from Kelowna of the Western Hockey League.
Chicago needs goal scorers. Sure, Gavin Hayes is one but he's likely a few years away. Bedard will instantly slot in, but it's certainly a place for the Blackhawks to load up. Forwards like Colton Dach may need some more time.
That is, if they don't trade the pick up or away to get that goal scoring elsewhere.
Cristall Packs Punch in Points, Goals
Bedard is one thing, but can the Blackhawks strike gold twice in the same draft? The early returns are promising, obviously, not as eye-popping as Bedard's. With Kelowna, Cristall buried 39 goals in just 54 games. In those same games, Cristall registered 95 points. The 18-year-old winger was 12th in goal scoring in the WHL, topping former first-round pick Matthew Savoie (2022 9th overall, Buffalo) and Zach Benson, who is projected by some to be a top-five pick.
In the points category, he was sixth in the league. It's the second season in a row Cristall was over a point-per-game in his scoring. This season, he was racking up 1.76 points-per-game. Though he was contained by Seattle to just one goal in four playoffs games, any Blackhawks fans knows that the now WHL champion T-Birds are stacked with talent.
Andrew Cristall doing his best to steal the show (to no surprise), makes a couple nice moves and scores the go-ahead goal as Kelowna converts another power play. That is Cristall's 17th of the season! #2023NHLDraft pic.twitter.com/cSiQJXgZdd

— Larry Fisher (@LarryFisher_KDC) November 30, 2022
Kelowna relied on Cristall for its scoring and he didn't disappoint. In his last game of the season, he tallied five assists. In his last 20 games of the season, he failed to get on the score sheet just three times. Also in those last 20 games, Cristall recorded 15 goals and 20 assists, good for 35 points.
A glance at his statistics looks like something out of a video game–especially for a player slotted to be selected later in the first round. So if he's scoring at such a high clip, what's keeping him at 19 instead of higher?
Spoiler Alert: Blackhawks May Not Get Him at 19
Some of the most prominent scouting outlets have Cristall all over the place. To wit:
NHL Central Scouting: 15th best North American skater
Bob McKenzie – 18th
Dobber Prospects – 8th
Elite Prospects – 8th
Smaht Scouting – 6th
So why would so many outlets have such varying views? Size may have something to do with it, where Cristall doesn't come up as the prototypical over six-foot forward. It's interesting that it's such an issue still, especially since there are scores of examples of NHL players who have flourished in spite of being shorter than six feet.
The one interesting fact that kept reoccurring when watching clips of him was how open he could get. Cristall's hockey sense is off the charts, and his release is also bordering NHL ready. There didn't seem to be an angle the winger couldn't score from, and he also wasn't afraid to go into the nasty spots of the ice to get the puck, either.
Simply put, he's an offensive machine. The Blackhawks have gambled on smaller scorers before and won big: Patrick Kane (5'10), Alex DeBrincat (5'7), and Artemi Panarin (just at six feet) are just a few names that come up.
Cristall stands at 5'10, and scores at a level that should dispel those fears immediately. Beyond that, it's an educated guess that Cristall will go the way of a Mason McTavish or a William Eklund. They were on the lower side of the board until the draft knocked. All of a sudden, they rocketed up, McTavish being taken third overall in 2021.
My guess is the same will happen with Cristall. Though he may not climb as high as three, it isn't out of the question that he could sneak his way into the top ten.
Whatever happens, the Blackhawks will likely take a hard look and would be hard pressed to not consider him if he falls to the 19th overall pick.