With all the Matthews Talk, Where Do the Blackhawks Factor In?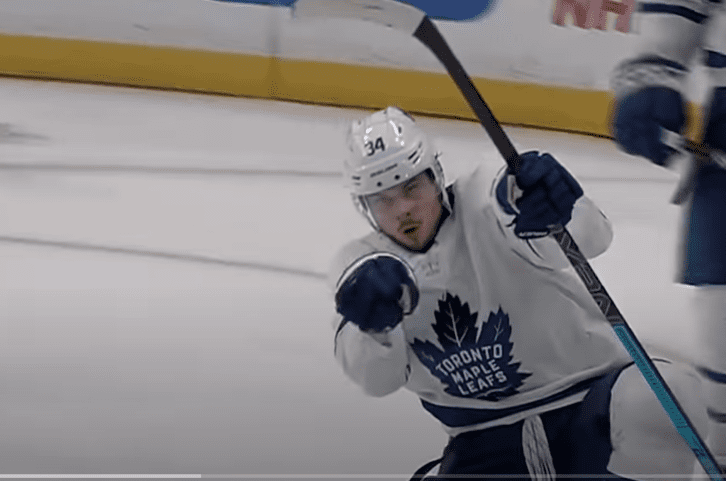 An interesting tidbit for the Chicago Blackhawks and any other team not named the Toronto Maple Leafs, which immediately screams "Auston Matthews" to some fans.
Friedman on 32TP: "I heard Toronto's exit interviews were pretty tough, I heard the Toronto players were pretty blunt about what they thought was said and that's something still to work on…he thinks some of the players were really blunt about why it didn't work".

— NHL Watcher (@NHL_Watcher) May 22, 2023
The next question to ask: Will Toronto fix it the right way or could teams start picking off unhappy players? The biggest name of all would be  Matthews, who according to some analysts, might very well be ready to walk away.
He still has a season left on his contract. But his next one figures to be a pay raise and likely a long-term deal.
Of course, these details will lead people to conclusions that Matthews may be on his way out. That's not the case. Some will conclude he's going to force his way out of Toronto. There's no evidence for that, and quite the contrary, he's spoken of staying with the Maple Leafs.
But in the case he would leave or want out, some speculate that Chicago would have to give up its number one overall pick to snag him.
That, too, wouldn't have to happen.
Cooler heads prevail and so does cautious planning. But it's more important to break things down and see what facts stand out.
What will Auston Matthews Do?
On Sirius XM's show Under Review with Mick Kern and Peter Berce yesterday, guest and NHL.com correspondent Dave McCarthy really couldn't answer with any clear indiciation on what Matthews will do.
"I would say based on the last time we heard him, he has appeite to return," McCarthy said on the show.  "But I would still say there's still a lot of uncertainty at this point."
With the general manager situation up in the air, it's anyone's guess as to what will be done. When asked about where Matthews will be come October, McCarthy paused and then answered.
"Oh man," McCarthy started after a long pause before answering. "But here's the thing, right? While he cannot sign to July 1st, a no-movement clause kicks in on July 1st. So which means he holds all the chips. So you have to kind of go to him beforehand and gain an understanding. You hope he's upfront and tells you what he honestly feels."
With over $40 million tied up in four players and a five-game, second round loss to show for it, it seems something will change.
Maybe it won't.
As McCarthy pointed out, nothing can be done until July 1st in terms of Matthews getting an extension. But when that occurs, a no-movement clause begins, giving Matthews all the power. Think Patrick Kane and how he called his shot with general manager Kyle Davidson.
But if players aren't happy in Toronto, or with what was going on prior, could a new general manager change that? There's speculation that head coach Sheldon Keefe will be out as well, which then adds in another wrinkle. But of all of it, if the stories of Kyle Dubas potentially going to Pittsburgh, conventional wisdom has to believe he's going to try and pry one of the "core-four" out of hockey's mecca.
Blackhawks Do Not Have To Give Up Their First Overall Pick if Matthews is Available
There's a lot to watch now in Toronto, and once the new general manager surveys the surroundings, it certainly seems like movement is possible. But there's one thing Chicago doesn't have to do–trade its first overall pick to acquire him. This has been floated by some but its illogical in several ways. Namely:
Unless Matthews re-signs on July 1st, everything is wide open. In that time prior to it, Matthews will talk to his agent while Toronto's new general manager and the front office will chart its course as to what they'll do next. If at any point a trade occurs that can completely benefit the Maple Leafs, it's prior to July 1.
After July 1, Matthews runs the conversation. He can literally, if indeed he wants out, dictate where the Maple Leafs send him.
For this reason, the Blackhawks first overall pick isn't even in the conversation. Matthews has all of the leverage and the Blackhawks know this. While they would certainly still be as fair as possible, they can broker a deal that works well for the organization.
The Blackhawks would be an unbelievably interesting scenario for Matthews because of holding the top pick to choose Connor Bedard. Imagine a one-two punch down the middle of Matthews and Bedard. Think how Matthews could mentor Bedard, a fellow generational talent, and be with him through a similar process that the 25-year-old experienced when he arrived in Toronto back in 2016.
It makes a lot of sense. But it also makes a lot of sense for Matthews to go elsewhere. He can go home to Arizona. Maybe he chooses a team that needs a player who will get them out of a rebuild and into immediate contention. That isn't Chicago, yet. But Buffalo, Ottawa, and Detroit could be considered as such. Even Anaheim, though they're some ways off, could be enticing.
All of this is rumor and conjecture at this point, with no one truly knowing a thing until a new general manager is in place with the Maple Leafs. It is very possible that the first order of business is locking Matthews up, something that is very real. Steven Stamkos was destined to leave until he wasn't. Dylan Larkin recently went through this in Detroit, until he, too, was re-signed.
But for every Stamkos and Larkin, there is that John Tavares case where a marquee player hits the open market.
So much to consider–so much to speculate.
But it won't take so much in the way of the first overall pick to get him if it goes down that path. No, it will take the right deal for the right conditions.
And the Blackhawks would certainly be an appealing destination for one of hockey's best players.