Kevin Korchinski Honing His Habits On The Way to Chicago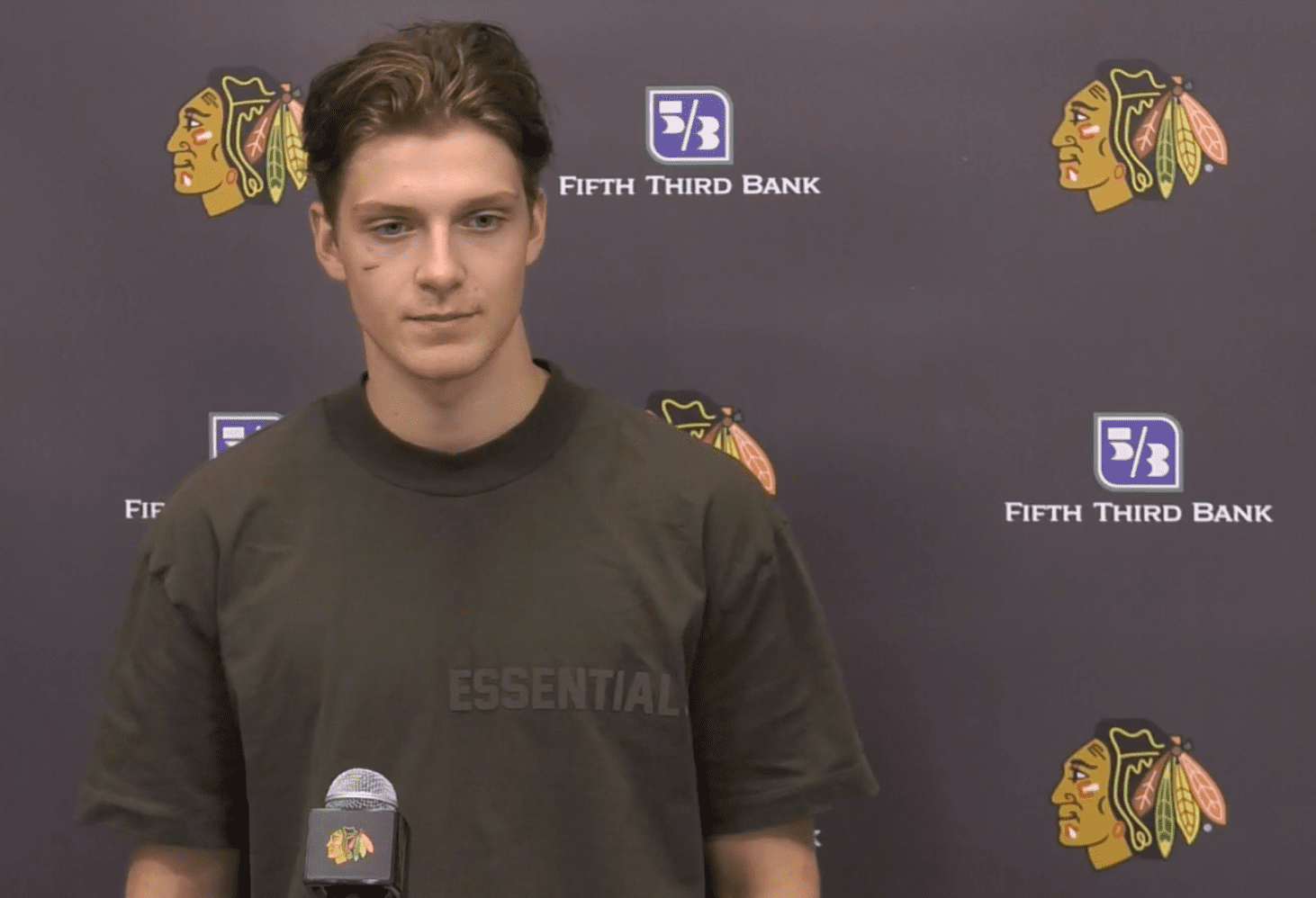 CHICAGO – Kevin Korchinski answered the question and was straightforward in the process. But there's no doubt that the question is on the mind of every Chicago Blackhawks fan keeping tabs on the 2022 seventh overall pick: where does he see himself this year. Better yet, could he see himself in Chicago in October?
"I think for me it's taking it day by day," Korchinski said. "Just trying to improve as much as I can for training camp and putting my best foot forward. I think I've made some strides this season just with the improvements I've made."
Korchinski answers in an "aw shucks" like fashion but there's nothing aw shucks about his game. The 19-year-old notched 73 points (11-62) in 54 games and along the way, collected a Gold medal in the World Juniors Championships and a Western Hockey League title. He and his fellow Blackhawks prospects Nolan Allan and Colton Dach fell a game short of winning the Memorial Cup.
No matter where he begins, the momentum is certainly leading him to Chicago.
Korchinski Bolstering Mental, Physical Strength As His Career Widens
It's quite the string of fortune to play in pressure packed games as a teenager. But three sets of them? None bigger than the World Juniors, where Korchinski along with his Seattle mates and fellow Blackhawk Connor Bedard took the gold medal. Seattle then powered its way to a 16-3 record in taking the Western Hockey League Final over Winnipeg. The Memorial Cup Final may have resulted in a 5-0 loss, but the lessons learned have been the best training of all.
"I think obviously a lot of pressure and it's trusting your training and your process," Korchinski said. "Your train all year to get to those moments. You put your heart and soul in the game and once you get to those moments, you just kinda go and put your best foot forward and let your training let yourself be yourself and play your game.
You can't kinda overthink it cuz once you're in your head, you're not going to put your best foot forward. You're not going to play your game. Just play your game, sacrifice for the team, and do whatever it takes to win those scenarios."
As for the physical training, it's certainly evident to the coaching staff. Rockford IceHogs head coach Anders Sorensen described Korchinski as "thicker" when he first saw him at camp. Korchinski could only laugh.
"Yeah, definitely been in the gym, definitely been putting on a bit of weight, not too much where I feel slow." Korchinski said. " I've been working back at home, whether it's nutrition or its just working out. It's a big goal for me to put on a bit of weight this summer so that in training camp I feel stronger so I can battle with men."
Between the mental and the physical, Korchinski certainly is trending in the right direction.
Winning in Seattle and at World Benefits the Blackhawks, too
When Sorensen was asked about the lessons learned by Korchinski, Dach, and Allan in Seattle, he spoke of how they were excited about the season they had yet still disappointed by how it obviously ended. But the key, Sorensen pointed out, was how that winning is contagious and builds for the future.
"I think when you come from a winning environment like they do, those are really good habits to have," Sorensen said.  "If you're used to winning and are part of that, certain standards are set in those type of programs. So, I think coming from those programs is great for us as well."
Korchinski appears to be practicing all the right habits which are improving his process. Habits, as an old saying goes, builds character.
It sure seems like those habits are charting his path to Chicago, perhaps as soon as this October.