Prospects Watch: NHL Network Ranks Blackhawks Pipeline Fourth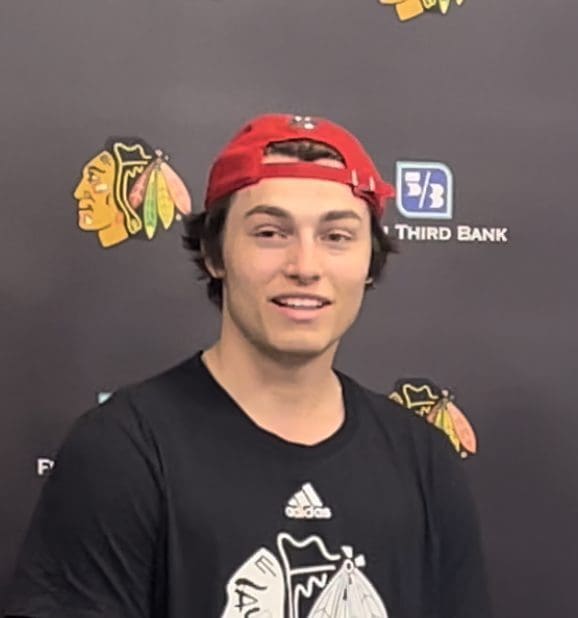 Just chalk it up to the Connor Bedard effect. After landing the generational talent with the first overall pick, Bedard buoys an already strong Chicago Blackhawks pipeline that pulls in a number of prospects who could be in Chicago sooner rather than later.
But trailing just Buffalo, Columbus, and Anaheim, the Blackhawks are likely to see several graduate as soon as this, and potentially next season.
👀👀👀

Do you agree with where your team's prospect pipeline is ranked? pic.twitter.com/ruviO5vp6G

— NHL Network (@NHLNetwork) July 20, 2023
Bedard Likely a Brief Visitor in the Blackhawks Pipeline
And by brief, it's the blink of an eye. All evidence points to Bedard being in the opening lineup on October 10, where even national outlets plan on airing his first few games from the onset of the season. The fourth ranking, then, seems likely to slide ever so slightly as he ends up in Chicago full time.
But other prospects in the system, namely Drew Commesso, Colton Dach, and Marcel Marcel will be with Rockford. Kevin Korchinski is still under contract with Seattle, but it sure seems like he could get some real time with the Blackhawks on a nine-game trial before they opt to send him back.
Then again, it may not be the best for his development if he played juniors again after nine years in the show. Another close eye will be in the NCAA, where Oliver Moore, Sam Rinzel, and Frank Nazar will be suiting up in Big 10 play. The aforementioned three were all first-round picks and seem the likelier route of potential one and done full seasons on the college sheet before turning pro. Nazar didn't get a full season in, hampered by injury until finally starting to roll for the University of Michigan in March.
Beyond that, Lukas Reichel will presumably be in Chicago for the full season, another graduation from the pipeline.
Pipeline Likely to Fluctuate As The Next Few Seasons Take Hold
Obviously, fans like to see the numbers higher as they stand, but in theory, sinking a bit in the rankings means they're finding their way to Chicago. Of course, there's always the other outcome which is that some don't hit as expected, which is always the case in every organization. But with five picks in the first round over the last two drafts, it stands a good bet that they'll hit on at least four, if not all five. Moore was considered a steal by most analysts, and it stands to reason that he'll have time and space to develop at his pace with his freshman year.
This doesn't cover the full gamut of Blackhawks prospects and Chicago Hockey Now will be following closely throughout the season.
But it stands to reason that the Blackhawks are in an enviable position and have the chance to really break out in the next couple of seasons.