Blackhawks Notebook: Future Top Line Combo; IceHogs Ink Another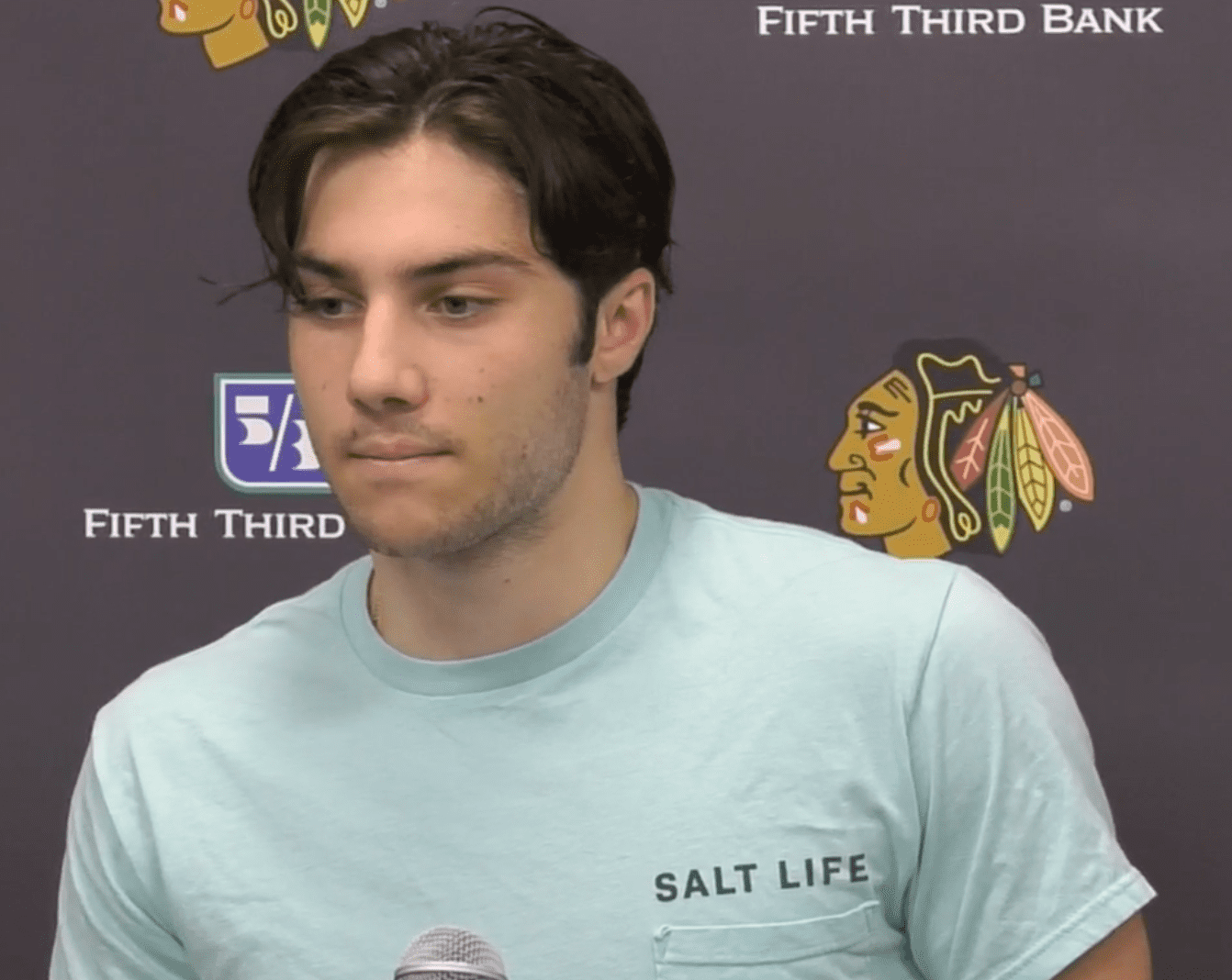 There was an interesting "line of the future" note for the Chicago Blackhawks by Big Head Hockey via Twitter.
Rank these first lines based on potential:

1. Gauthier-Frost-Michkov
2. Slafkovsky-Suzuki-Caufield
3. Reichel-Bedard-Nazar
4. Carlsson-Zegras-Terry pic.twitter.com/bvd5t3JyE7

— Big Head Hockey (@BigHeadHcky) August 13, 2023
While there's no doubt it could be explosive, one would still believe that putting Frank Nazar on his own line could be something that could serve Chicago better. Any good center can play wing since it frees them up a bit more offensively.
Then again, there are a lot of options they could potentially have.
Ultimately what would the  Blackhawks consider at center? If going down the middle, a 2025 potential lineup would look like Bedard, and the flip of flop of either Nazar or Oliver Moore on the second and third lines. Fourth line could go a number of ways. Ryan Greene might be ready. Paul Ludwinski would be another option. What about Martin Misiak, who with a couple seasons in the OHL might find his way to Chicago by 2025? He, too, can slot in either on the wing or down the middle, where he spent considerable time with the Youngstown Phantoms of the USHL.
That's not even considering current Blackhawks who could potentially fill the role–if they're still on the roster.
It's also likely that if Taylor Raddysh enjoys another productive season, he's a candidate to start go on that top line. But if we're talking 2025 here, there are options aplenty to flank Bedard from either side. Gavin Hayes, if he lights it up again this season, could be an option. New draftee Nick Lardis could be ready.
There's no denying that it could be a fun little line. But the Blackhawks may be blessed with more options than they can imagine right now, making them even stronger than they thought.
Blackhawks Family Connection with Connor Bedard
Here's a neat little story: a great-great uncle of Connor Bedard's played for Chicago in the 'early 50s:
The Bedard family is no stranger to the Blackhawks organization 🤯

Connor's great-great uncle James (left) played 22 games from 1949-51 pic.twitter.com/0N9NEG8vCd

— Chicago Blackhawks (@NHLBlackhawks) August 14, 2023
James' career was a defenseman in the NHL with a five games in 1949-50, and then 17 in 1950-51. In the latter season, he had two points (1-1). His last six seasons of hockey were spent with several teams from the WHL.
A little familial destiny there with the Bedards and the Blackhawks.
Zach Jordan Re-Ups with IceHogs
The 26-year-old forward signed a one-year deal per a team release.  He only appeared in 15 games last season with Rockford following a February 28th trade. He tallied a goal in his time last season.