Emulating His Hockey Idol, Nick Lardis Might Be a Steal for the Blackhawks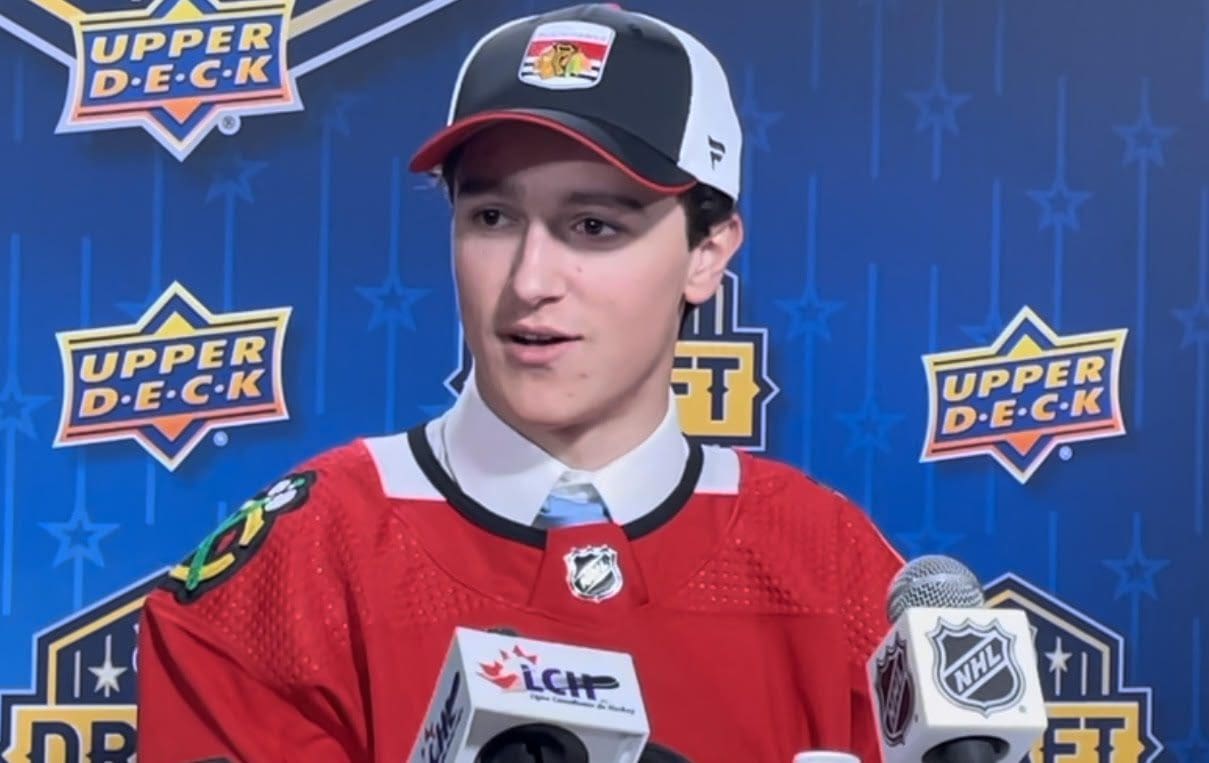 When Nick Lardis was drafted by the Chicago Blackhawks, he talked about his memory of Patrick Kane's overtime winner in the pressure packed Stanley Cup Final.
"Seeing that big of a game and watching it at home–seeing that my favorite player scored the overtime winner of the Stanley Cup Final was a really cool moment for myself," Lardis said.
It's certainly something to be drafted by the team you grew up loving who also happened to have the player he idolized. But it's certainly something else that he was drafted for one of the main attributes that set Kane apart from his peers.
"My biggest strengths are my speed and skating," Lardis said. "I think the way I play with my speed and skill–it really allows me to create time and space for myself in all zones of the ice."
Boy–that sounds familiar.
Nick Lardis Fits a Need For Chicago
With 37 goals and 65 points with both Peterborough and Hamilton of the OHL, Lardis fills a need in Chicago with a pipeline that is not as full on either side of center. He spoke to his strengths with speed, but his instincts on offense mirror the talents of the player he worshipped growing up. Lardis has a nose for the net, and an average of the scouting outlets ranking him were as high as a late first-round pick to an early third-round pick, which is exactly where he ended up with the Blackhawks.
Now it's about building on what was a breakout year in the Ontario Hockey League.
"Obviously a great second half there in Hamilton," Lardis said. "Just kinda want to keep improving on that and be a top player there and in the OHL."
And a top player he was. With the playoff bound Bulldogs, Lardis did his best work in Hamilton potting 25 goals and 46 points. He buried 17 points in his first 10 games suiting up for the Bulldogs, with nine finding the back of the net. Lardis would score 16 more goals in the next 23 games, and finish with 46 points in just 33 games for the Bulldogs.
For the 67th overall pick, it's quite the value for the Blackhawks.
Lardis's Skill Stood Out at CHL Top Prospects Game
Larids played in the CHL Top Prospects game back in January and excelled in the skills competition.  Noted by NHL.com's Mike Morreale, Lardis was the lowest ranked skater in the game but he ended up finishing in the top-five of seven on-ice skill challenges.
"I've worked a little bit on the stuff over the summer and trained in these specific areas a lot too," Lardis told Morreale. "In my home club too in Peterborough I did this testing and I did really good, so I was hoping to get a really good score."
A third-round pick with speed, a motor, and scoring ability? Sure sounds a lot like his hockey idol.
While he may not be exactly like Kane, Lardis could very well be a steal for the Blackhawks down the road. With wings like Gavin Hayes and Samuel Savoie catching attention, too, the Blackhawks may not have the depth on the wing like they do down the middle.
But with the speed and skill already there, they might not need it after all. Especially if Nick Lardis continues to put up the numbers in Hamilton.