Blackhawks of Tomorrow: Colton Dach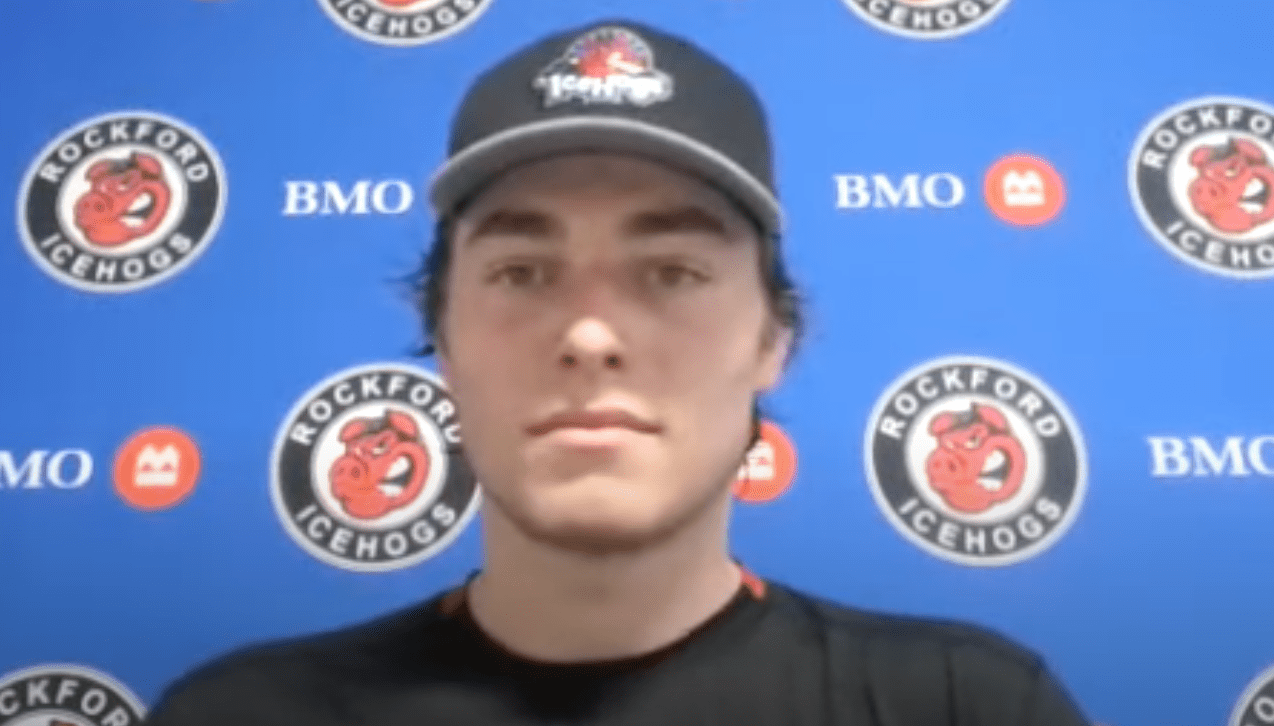 (Editor's Note: This is the second installment in Chicago Hockey Now's Blackhawks of Tomorrow series about Chicago Blackhawks prospects). Today we look at forward Colton Dach. Previously, we looked at Kevin Korchinski
When the Chicago Blackhawks drafted Colton Dach in the second round of the 2021 NHL Draft, some inferred it was since brother Kirby was in the fold. Nepotism accusations be damned, the older Dach was traded last season for Montreal's 12th overall pick while the latter has slowly taken shape as an exciting prospect in the system.
Dach Has Been Steadily Rising
Sidelined by injury early in the season, Dach finally recovered only to suffer a shoulder injury during the World Championships back in December. Dach was traded from Kelowna to Seattle and posted a total of 27 points (12-15) in 23 games with both teams.
But it's been the playoffs where Dach has generated the most attention. Through the first three rounds of the WHL playoffs with the Seattle Thunderbirds, Dach has been a point-per-game player, registering 12 points (3-9) in as many games. With Seattle holding a 3-1 lead in the series, Dach could very well be playing in the WHL Final soon.
With fellow Blackhawks prospects Korchinski and Nolan Allen, it's been fascinating watching three Chicago draft picks pace Seattle to an 11-1 start in the playoffs.
Analysis
When Seattle made the deal to acquire Dach, they gave up a haul–for good reason. Dach's upside is tremendous and though he was injured at the time, the Thunderbirds were gambling on his recovery to provide another strong, skilled player to take them through the playoffs.
So far, so good. Dach's draft class is one that was in the odd years affected by Covid-19. An entire year of development was dinged due to the world being shut down so the true potential of Dach may very well not have been scratched yet. If there's ever anyone who could surprise with more in his bag of tricks than expected, Dach is it.
Dach's skating has improved from his pre-draft days. He can drive play and is not afraid to go into the corner. The injury he sustained as the World Juniors was a cause of it, finishing a check that just went sideways. Dach has resumed his hard nose play and it's been evident in his play during the postseason.
Where the Blackhawks will be interested to watch is if his scoring prowess improves. Dach can score goals, and it will be interesting to see how it transfers into the "man's" league. Coaches often say that great defensive hockey leads to more scoring opportunities and goals. The defensive side of the game is certainly one of Dach's strengths.
The clock struck four, they shot and scored.

Hickory Dickory Dach.@SeattleTbirds | @NHLBlackhawks#WHLPlayoffs | #FeedingTheFuture pic.twitter.com/66NvAe0eAD

— The WHL (@TheWHL) May 1, 2023
Forecast
Dach inked to a three-year entry level deal and will likely begin next season with Rockford. Unless Korchinski makes the opening night roster (which isn't entirely out of the conversation), they'll likely suit up for the IceHogs together with fellow Thunderbird Nolan Allen to kick the 2023-24 season off. The three also won a gold medal in the World Junior Championships back in January.
Dach is an exciting prospect who the Blackhawks are in no hurry to rush. There's likely to be a treasure trove of Blackhawks prospects in Rockford next year. It will allow for head coach Anders Sorensen and his staff to best equip them for an eventual call up.
Dach brings speed and scoring, something the big club talent desperately needs. The Blackhawks have time to wait for when he's ready. It sure looks likely to pay off in the long run.