Top 10 Blackhawks Prospect Rankings: Injury Free and Rising at #9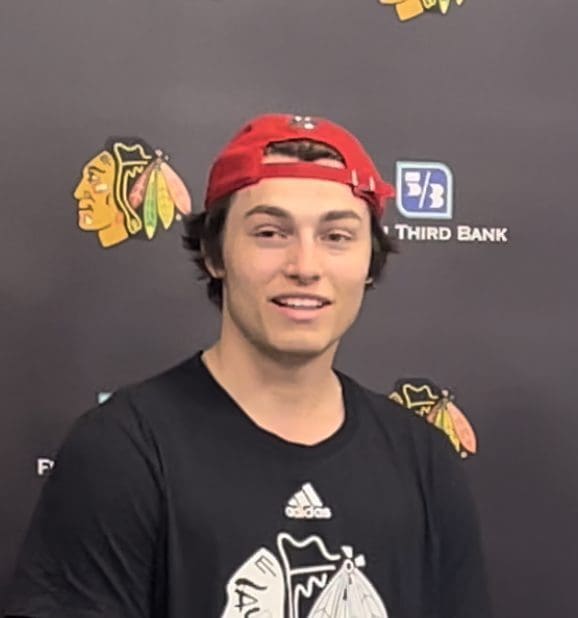 As the Chicago Blackhawks head into the 2023-24 season, they have a loaded pipeline of prospects. Where it gets difficult, is determining exactly where they are on their journey and how that plays into their ranking.
Instead of writing a longer 2000+ word piece, CHN has opted to write ten shorter pieces that lays out the reasoning for the spot in their respective ranking. Believe me, looking at the list it's not a simple notion outside of #1, which is a slam dunk. Essentially, the considerations with rankings worked like this:
Where is this current prospect in their readiness with the Blackhawks? A Lukas Reichel is much closer compared to a Gavin Hayes.
How does the current prospect rank out in terms of their ceiling as opposed to other prospects on the list?
How has the prospect performed within their respective league–and how does that league rank out against others?
CHN's ninth ranked prospect in the Blackhawks system is Colton Dach.
Stock Went Up During WHL Playoffs, Memorial Cup
Dach was literally everywhere in the Western Hockey League playoffs. But it was in the Memorial Cup where he really stood out. There were a couple shifts in the Memorial Cup where Dach used physicality and smarts to make plays, create scoring chances, and at times, bury a few himself. The full scale of what he's capable of was on display after a season of setbacks between concussions and then a shoulder injury suffered during the World Juniors.
A healthy final few weeks bloomed into a strong postseason play that put Dach back on track to where many had him before–in the NHL as a top-nine forward.
Dach was signed to an entry-level deal back in 2021 and was also in the same organization as his older brother, Kirby. The elder Dach was dealt in 2022 for the 13th overall pick, which turned out to be Frank Nazar–a fellow center. The depth down the middle for Chicago has been written about extensively and Dach is certainly another forward for the Blackhawks to count on.
Blackhawks Full-Time ETA: 2024-25
It's not to say that he won't get a look this season. It's that a full time role will likely be a season away, where Dach's health and production will play into where he ends up not only this season, but beyond. The next step up is against men, where there are those that struggle to make the jump from juniors or college to the AHL, where it's a hodgepodge of prospects angling to get their chance along with veterans who are trying to make their own noise. Some of those veterans are lifers–while others are trying to get back in with their respective big club.
In his 23 games between Kelowna and Seattle, Dach was over a point-per-game. In the postseason, he had 14 points (3-11) in 19 games. He's shown he can produce when healthy.
Now, can that run of good health continue. Dach has a chance to be a contributor at the NHL level–but like everything, some of that has luck involved. He's had misfortune with injuries last season but rallied after, producing after the layoff.
Strong play in Rockford doesn't just show that he's fulfilling what the Blackhawks thought he would be when they drafted. It means that they'll he could be on his way to Chicago not only for the short term–but for the long haul.
#1: Connor Bedard | #2: Lukas Reichel | #3: Kevin Korchinski | #4 & #5: Frank Nazar and Oliver Moore | #6: Drew Commesso | #7: Gavin Hayes | #8 Ethan Del Mastro