Rockford's Sorensen on Lukas Reichel: 'Sky's the Limit'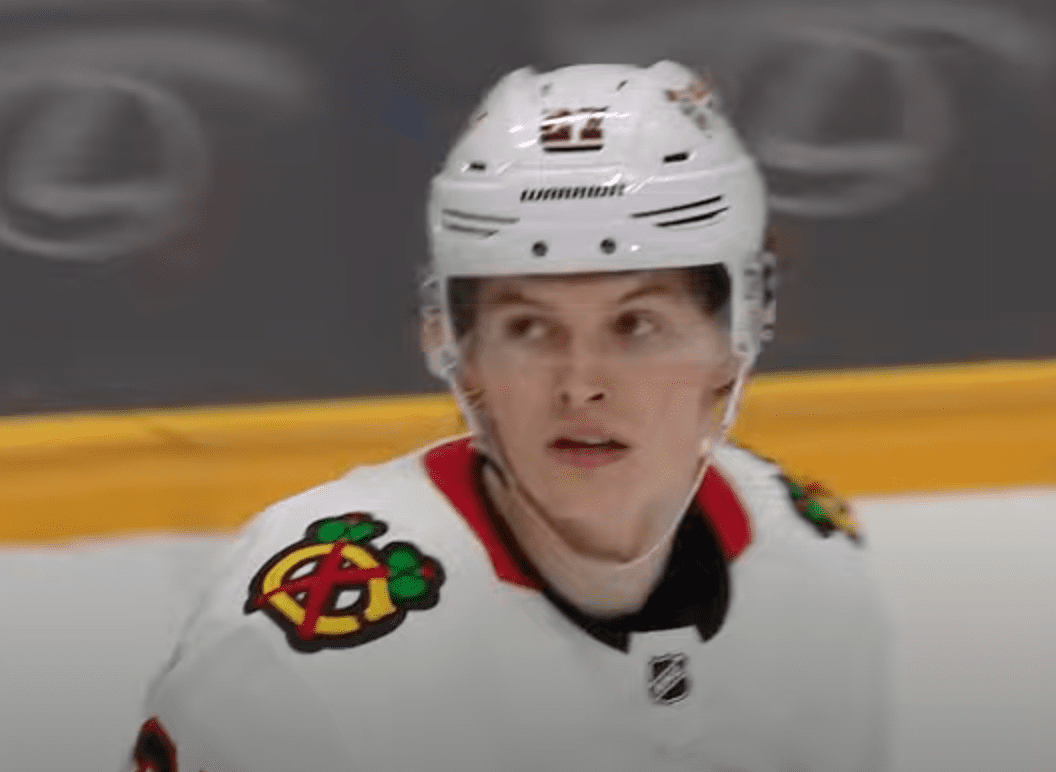 CHICAGO – Long before the Chicago Blackhawks won the 2023 NHL Draft Lottery, the top prospect in the system was Lukas Reichel. Momentarily lost in the excitement that is Connor Bedard being a Blackhawk is that Reichel is surely ready for full time duty with the big club.
The possibilities of Lukas Reichel and Connor Bedard on a power play unit or at some point on a line together is exciting for Blackhawks fans to envision. Heck, between the awards Reichel and Bedard picked up in the offseason, the vision of Stanley Cup parades could be dancing in their heads. But is the excitement for Reichel realistic?
According to Rockford IceHogs head coach Anders Sorensen, some of the best hockey could be ahead for Chicago's 2020 17th overall pick.
"Here's another guy who's physically starting to develop," Sorensen said. "This year I think the mental maturity came a long way. Just knowing, he's got a great work ethic but he's finally starting to put it all together."
Reichel's Versatility is Certainly Appealing
In 23 games with the Blackhawks this season, Reichel had 15 points (7-8). With Sorensen in Rockford, the 21-year-old had 51 points in 54 games with 20 finding the back of the net. Reichel was primarily if not exclusively on the wing in Chicago, but shifted between the left and down the middle in Rockford.
The versatility helps for sure. But with a Blackhawks team that seems set at center, would Reichel fit centering a line?
"Oh, for sure," Sorensen answered when asked.  "I haven't talked to [Blackhawks head coach] Luke [Richardson] where exactly they're playing him, but yeah, for sure."
So if in fact Richardson gives him time centering a line, where would he need to improve to find full time status there?
"He improved his faceoffs a ton down by us," Sorensen said.  "So obviously in the NHL, that's another area that, when you're taking faceoffs, you're going up against your Crosbys or whoever you're playing against that night. So faceoffs would be one thing."
Another was the "rigors of down-low play." Sorensen sees Reichel flourishing in what is a new trend in the league.
"The game has changed a little bit in the NHL, it's more of a rush game now than it was in the past," Sorensen said.  "So back to what I said earlier, with his ability to create and play off the rush, that would do well for him."
Lukas Reichel Looks the Part on the Ice Both Physically and Mentally
The physical skills are one thing. But as an athlete will attest to, the mental game is another huge part of the battle at the NHL level. Going on a nine-point streak certainly does wonders for confidence. But if things go south, sometimes quicker than expected, keeping things in perspective maintains consistency and confidence.
For Reichel, Sorensen is happy with Reichel's progress in that regard, too.
"If things didn't go his way in the game, if it was within a shift or within a period, I think in the past, he would let that affect him the rest of the game or the next game," Sorensen said.  "His ability to move on from things was a lot better."
This was evident in the final third of his time in Chicago. In his first eight games, Reichel has six points (2-4). Over the next seven games, Reichel notched a single goal. But in his final eight games, he had eight points (4-4). Not bad finishing the season on a point-per-game pace.
Clearly, the seven games that saw Reichel notch only a single point didn't bring the young forward down, a maturation that Sorensen noted as the season wore on.
"If things didn't go his way or whatever happened, he could show some frustrations both on the bench and on the ice," Sorensen said.  "I think he moved away from that really well."
So if the physical and mental game are clearly in Reichel's favor, where does that put him on a short and long term basis?
"I think the sky's the limit," Reichel said.  "I think he's a great kid, he's a great off-the-rush player, he's a super smart player, and he's super coachable."
In short, it's high time for Reichel to showcase his skills at the NHL level.