Prospects Preview: It's Go Time for Lukas Reichel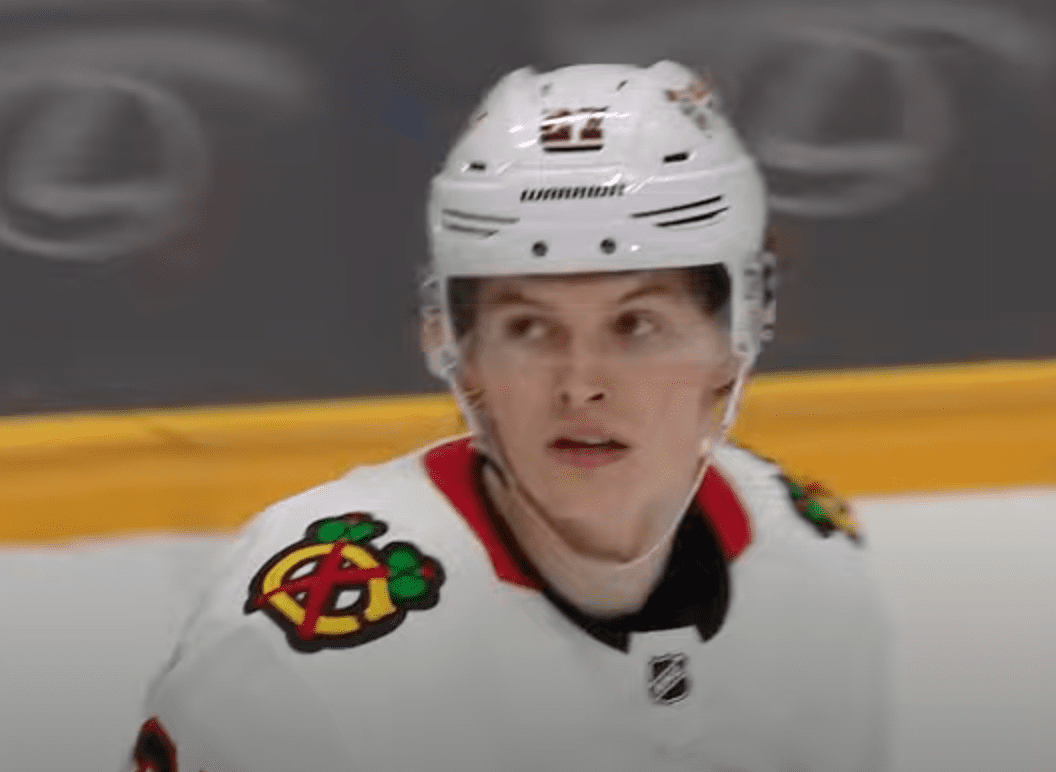 The time has come for Chicago Blackhawks prospect Lukas Reichel. There's nothing left to show at Rockford. He's able to play center or wing.
Simply put, it's go time for Lukas Reichel in Chicago.
A Chance to Help Lead the Blackhawks Out of the Rebuild
Connor Bedard is clearly the generational player needed to get a team out of the seventh circle of a rebuild hell. A player like Reichel was taken to help the Blackhawks in a different time–when Chicago thought it was finding its way again.
Instead, the 2020 17th overall pick is now one of the anticipated pieces to bring Chicago beyond sustainability–and into contention.
The lingering question though is how will things look after a full 82-game NHL season. It's been snippets here and there for Reichel. Now, he'll be a counted upon to put the puck into the net.
His Rockford numbers were encouraging. So too, were the 23 games he played with the Blackhawks last year.
Now, though, the question morphs from what-can-he-do into is-he-who-we-thought he was? That will reveal itself as the season draws on.
Prospect Graduation
It will also signal the end of the prospect status Reichel has, which was in its final stages anyway. With 33 games to his name in the NHL, barring injury he will blow past that this season.
It now becomes interesting to see where he goes from here. The path that he takes with the Blackhawks will likely have its fair share of bumps–as do the career paths of any professional athlete.
Here's 10 years worth of picks at 17 dating back to 2010:
Some names jump out. Others not so much. But drafting in the latter half of the first round is likely a crapshoot–hope surrounded by development work that has to be done.
Bedard and Reichel are the first of many prospects to test what Chicago is building. Bedard seems like a foregone conclusion, and Reichel seems like a good bet. There is of course the legacy of Stan Bowman's drafts, written about extensively here as a disappointing bag of players who either didn't make the cut or were traded away hoping to work out elsewhere in exchange for something better for Chicago.
Similar to Bedard, it's fair to temper expectations while the Blackhawks are still battling with a roster that isn't meant to win a lot of games. But it's also fair that if the promise of last year is clouded by a less than average performance.
It's likely through the next couple of seasons that the Blackhawks can truly understand what they have in him. Until then, it's definitely go-time for Reichel in Chicago.
The Measured Prediction
Reichel pots double digit goals and plays 65+ games
Shoot the Moon Prediction 
Reichel scores 20, spends considerable time on Bedard's line, and is very much the player Chicago hoped he was
Say it Ain't So Prediction: Reichel struggles through the season and turns the 2024-25 campaign into a "boy, let's hope he figures it out," season
Final Thoughts
First round picks are the ones NHL teams cannot afford to miss on. Whether they're first or 19th, it's paramount that rebuilding teams like the Blackhawks don't miss when they are choosing in the top round.
Lukas Reichel has his chance to stake his claim on the roster not only now but in the future.