Blackhawks Prospects Report: OHL Prospects Scoring at Will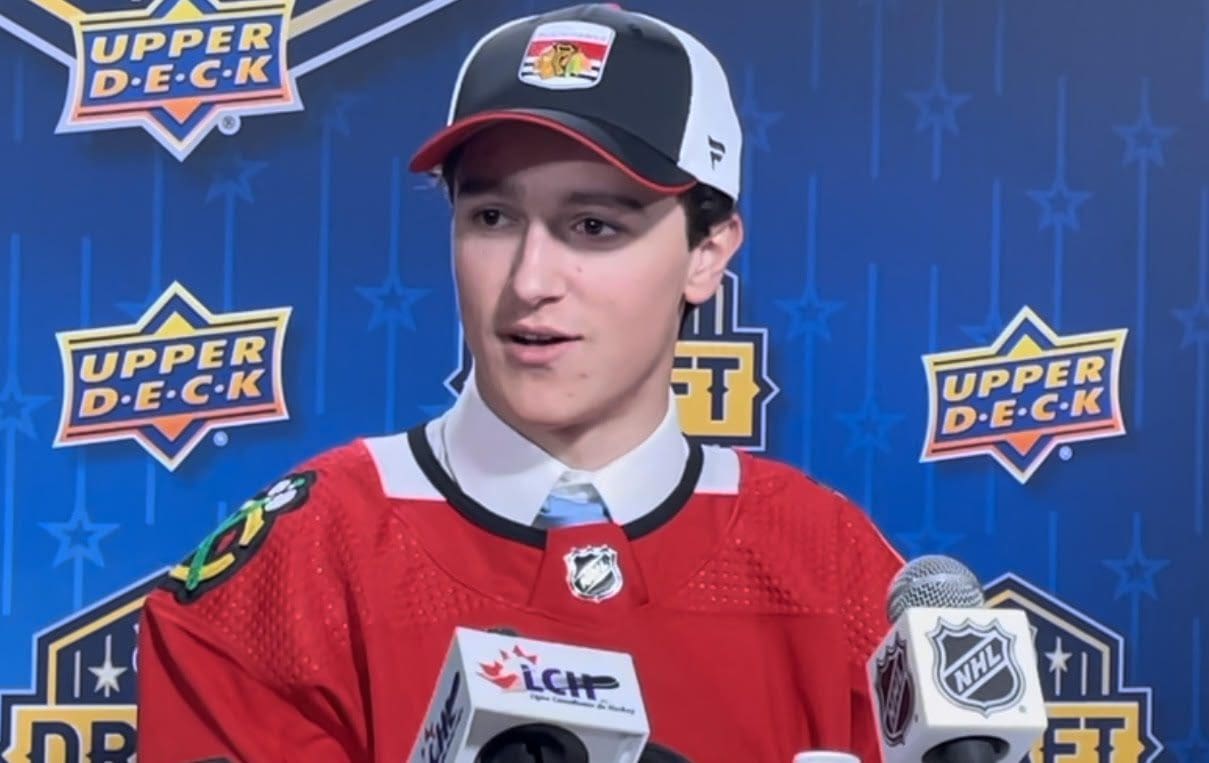 Nick Lardis talked about how he great up worshipping Patrick Kane as a player after being drafted by the Chicago Blackhawks.
He's doing a pretty good imitation of him in the Ontario Hockey League. It's not only scoring a couple in game within ten seconds of one another–it's the sheer number he's got so far.
#Blackhawks prospect Nick Lardis made some @BulldogsOHL history on Sunday. #OHLStats pic.twitter.com/zoDdosq7t4

— Ontario Hockey League (@OHLHockey) November 13, 2023
Last week, CHN spoke to and wrote about Gavin Hayes, who notched another goal to give him 11 in 16 games. Lardis, though, took over as the most proficient Blackhawks prospect in the scoring department with his 12th goal in 17 games. A look at the four OHL prospects banging down the door with points.
Lardis (12-4-16); Current Pace: ( 47-15 -62)
Hayes  (11-7-18); Current Pace: (45- 29 -74)
Paul Ludwinski (7-11-18); Current Pace: (31-48-79)
Martin Misiak (9-9-18); Current Pace: (33-33-66)
Averaging it out with a total of 66 games played, it's a pretty impressive pace for all of Chicago's prospects. Even Lardis, who is just one point behind a point-per-game pace, is still on track for 47 goals. Hayes is right behind him with 45. Ludwinski leads the pack with 79 points projected, and Misiak is an even 33 goals and assists.
What's to Make of the Blackhawks Prospects Scoring at Will in the OHL
Lardis is the headliner here, scoring goals at the quick rate along in bucket fulls with eight goals in his last 11. Three have come in the past two games.
Hayes started over after his 12-game point streak was snapped Friday, but notched one to send Flint to overtime against Erie on Saturday. After a pair of games where Connor Bedard really is showing the league and the Blackhawks the type of player he is, it only serves to excite more that prospects honing their craft in junior hockey and beyond are lighting up the scoresheet.
Don't forget about Oliver Moore and Frank Nazar, either, amongst others.
It's not to be a broken record, but the Blackhawks certainly have done well within the draft. Now, can the continued development and skill lead them to Chicago?
There's a lot of help on its way for the Blackhawks and if the scoring clip continues, the possibilities are endless as to what is possible for the future.
Follow Chicago Hockey Now on Socials!