Rebuild Report: Blackhawks Go With Adam Boqvist at Eight in 2018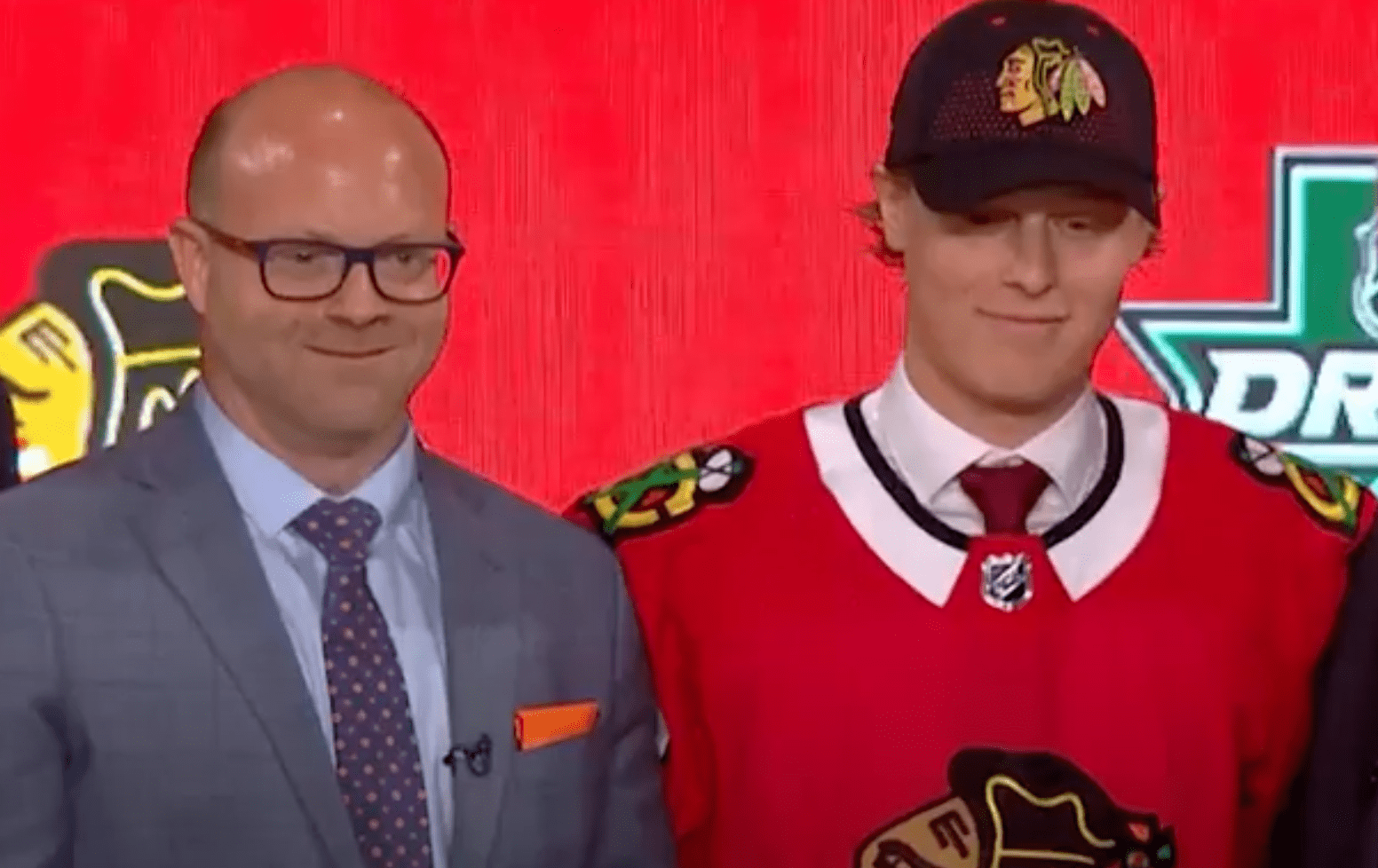 The Chicago Blackhawks 2018 Draft was the first time they'd picked in the top for nearly a decade. Staring down a rebuild, Chicago opted for the rebuild-on-a-fly strategy. Ironically, the guys they wanted to conduct that with wouldn't be around for long. Adam Boqvist would be the choice.
Chicago Hockey Now continues the Rebuild Report series with the 2018 Draft, looking at how the foundation was either helped or hampered by the lack of draft choices making it to the big club.
To set the stage, the graph below comes from the well written Dobber Prospects piece  that focuses on the success of draft picks by round in the draft.  This is where our story starts.
Chicago Blackhawks 2018 Draft Primer
Missing the playoffs for the first time in a decade should have been the canary in the coal mine for the Blackhawks. They would continue to scuffle, however, and with their first pick in the top ten since taking Patrick Kane first overall in 2007, Chicago would take a puck moving defenseman who they thought would be its new cornerstone defenseman.
As has been the case before in the series, it's not exactly what happened.
8th overall pick (1st round) – Adam Boqvist (D)
Where is he now? Columbus via trade
When they took him eighth overall, there was a sense that the Blackhawks were looking for their next foundational defenseman. Comparisons were to Erik Karlsson. It was a sigh of relief for many, thinking that finally, the Blackhawks could build around a guy who would solidify the blue line.
It didn't really work out that way in the end. Three seasons later, Boqvist would be shipped to Columbus with a pair of first round picks for Seth Jones, who the Blackhawks believed was actually the foundational defenseman they were looking for. Stan Bowman was also fighting for his job at this point, and the rebuild on the fly was suddenly scrapped and now it was all in again.
Until it wasn't. Regardless, Boqvist's numbers never panned out in Chicago, and he's already been better in Columbus statistically–but he's struggled to stay healthy. Out of it, at least they got Jones, who they inked to a huge eight-year deal worth $9.5M against the cap. So maybe, in a round about way, they got the defenseman they were looking for. It just cost them a hell of a lot more than the eighth overall pick in 2018.
27th overall pick (1st round) – Nicholas Beaudin (D)
Where is he now? Montreal via trade
With their second pick in the first round, the Blackhawks went back to the blue line. This one also didn't go as planned. In what was a trend for Bowman and the front office, their picks would be drafted, hyped, and then ultimately traded. In fact, before we even dive further into this draft, the previous three first round picks profiled were all defensemen. All three were dealt within three seasons of their draft year.
If there is any other damning reason for Chicago's steady fall, look no further than the huge misses in the first round. Beaudin played a grand total of 44 games in the NHL and spent the 2022-23 season in the AHL. Kyle Davidson dealt him away in October and the return was for forward Cam Hillis, who has one career NHL game and played 18 games in Rockford.
69th overall pick (3rd round) – Jake Wise (C)
Where is he now? Rights still held by Chicago
Wise was the captain for Ohio State's hockey team in 2022-23, and then signed a professional tryout with the AHL's Charlotte Checkers, where he had two assists in a regular season game and a goal in a single playoff game. His rights are still held by the Blackhawks but he has yet to be tendered a contract.
74th overall pick (3rd round) – Niklas Nordgren (RW)
Where is he now? Overseas
Nordgren has played exclusively in Liiga and then also Mestis, which is the second highest league in Finland. It doesn't look like he'll be making the trip to North America.
120th overall pick (4th round) – Philipp Kurashev (C)
Where is he now? Still with the Blackhawks
How about that? A hit in the middle round. The centerman has 191 games to his name with the big club and rounded out 2022-23 with 25 points (9-16) in 70 games. His numbers essentially have been constant, with slight improvement by four points from last season to this one. A restricted free agent, he'll likely see a slight bump to maybe cap out at a million on a show-me contract.
139th overall pick (5th round) – Mikael Hakkarainen (C)
Where is he now? No longer in hockey
Hakkarainen played 14 games for Rockford and went back overseas following the 2020-21 season. He finished out in Sweden and did not play in 2022-23.
162nd overall pick (6th round) – Alexis Gravel (G)
Where is he now? University of Quebec
Gravel played five seasons with the Halifax Moosehead before a two game stop in the ECHL. Gravel played the last two seasons with the University of Quebec of the OUAA.
193rd overall pick (7th round) – Josiah Slavin (LW)
Where is he now? Anaheim via trade
Not bad that Slavin played 15 games for the Blackhawks in 2021-22. He played 51 games with Rockford his 2022-23 before being dealt to Anaheim for forward Hunter Drew.
2017 Draft By The Numbers and Final Thoughts
Hit Percentage (out of 8 picks with at least 99 NHL games): 25%
Number of total NHL games played with Chicago:  76 (Boqvist); 22 (Beaudin); 191 (Kurashev); 15 (Slavin)
Number of total NHL games excluding Chicago: 98 (Boqvist)
Total Cumulative NHL games: 402
So for those keeping score at home, the breakdown so far of cumulative NHL games is this:
2015 – 48
2016 – 514 (DeBrincat being 87.5% of those games)
2017 – 361
2018 – 402
They saw a jump in games played but the bulk of Boqvist's have been played in Columbus and not Chicago. Kurashev is the big win here, with all of his 191 games played being in Chicago. Beaudin and Slavin both played their only games in Chicago but fell far short of the greater than 99 games threshold. But the pattern has become apparent and one that doubles down on why Chicago's steady fall shouldn't have been as surprising as it was.
Between trades that didn't yield value, the retirement of key players, Jonathan Toews' health issues and then drafting that never supplemented the losses, the 2017-18 season is now less of a shock as it appeared at that time. As we move into 2019 where Chicago would get lottery luck and hop up to the third spot, Bowman finally avoids taking a defenseman with the pick.
But the player he does take causes debate amongst the fan base and pundits. And like the previous three first-round picks before him, Kirby Dach would find himself shipped out of Chicago within three seasons of being drafted.
Previous Rebuild Report Draft Pick Series: 2015 Draft – Swing and a Miss | 2016 Draft – Delightfully Drafting DeBrincat |   2017 Draft – Trading to only Trade It Away Later