All Jokes Aside, Samuel Savoie Sees a Serious Jump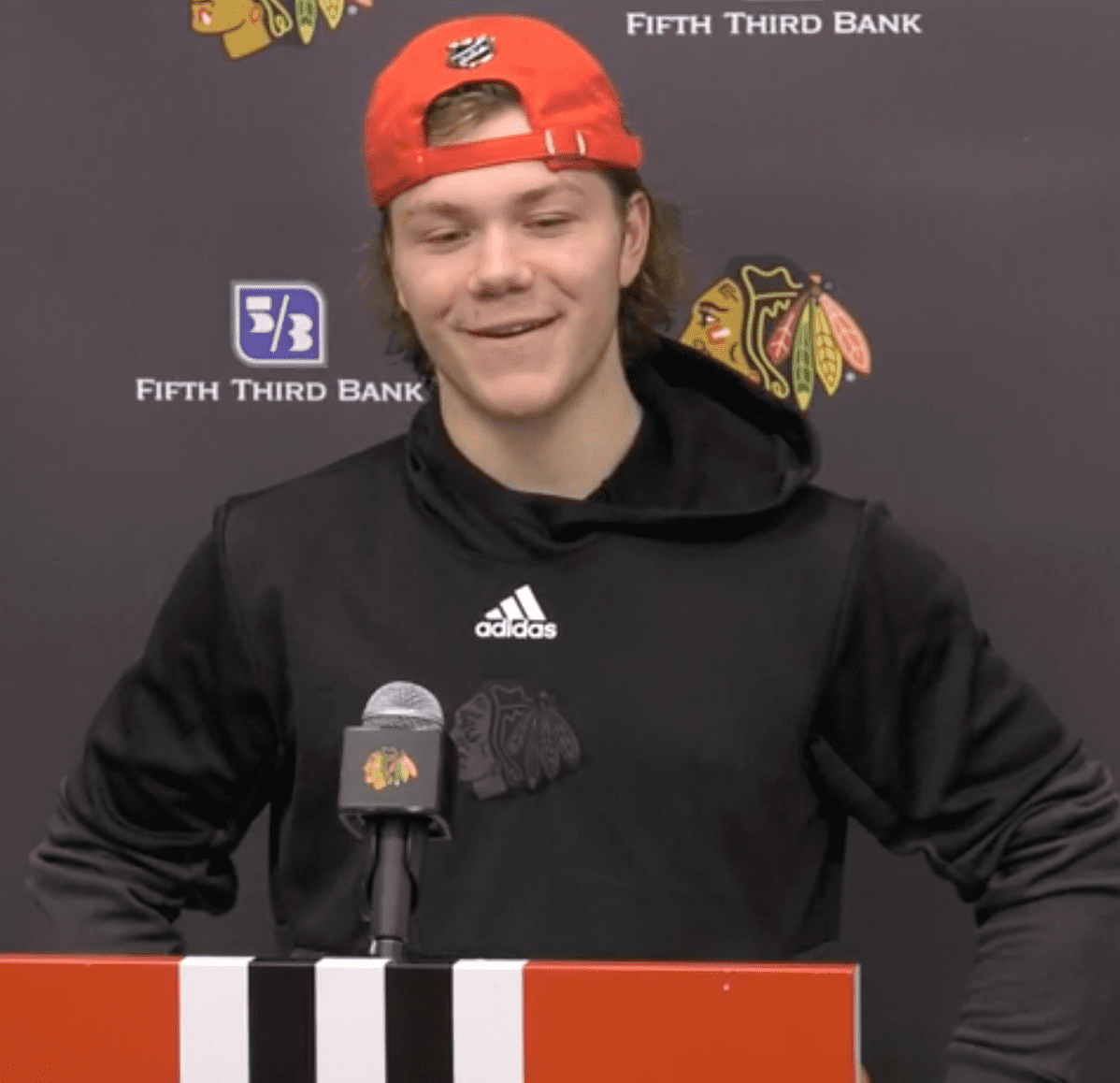 Quick with a smile and a sharp wit, Samuel Savoie was asked who would be declared the champion of development camp's comedy competition.  Would it be brand new Blackhawks prospect and fellow Gatineau teammate Marcel Marcel or Savoie?
" I think he's kind of more funny with his accent and all," Savoie said.  "I think I'd probably give it to him. So yeah, probably Marcel."
Savoie wouldn't reveal any of his material for the evening, and brushed aside requests for a joke or two. What he would admit is how humor diffuses a locker room.
"It's all business, it's all seriousness," Savoie said about a locker room. "But at some times we have to erase the mind of being focused and being dialed in. Just having fun. And being a team and being with a lot of chemistry and all that. So I think it's very important."
That material has played well for Savoie and his teammates in Gatineau.
A Jump In His Game
Working off of a 26 point improvement from a season ago, Savoie's game has been more wreaking havoc, an up tempo physical game that throws opponents off their game. It was quite the change when suddenly, the 19-year-old winger is playing in every situation and finding the back of the net more. Despite this, the physical game isn't going anywhere.
"Yeah I think that's a thing," Savoie said about his physical game. "I don't want to erase my game even next year if I have more opportunities, more ice time. Playing first power play and all that in the Q. I don't want to lose that–I think that's part of my nature, part of my game. A big part of my game. So I'll keep doing that."
His penalty minutes showed that the physical part wasn't going anywhere as they doubled while playing four less games. But it's in his DNA, an expectation that he'll be throwing his weight around and skating to that proverbial line when doing so. In fact, it's something he's worked on–playing his game while staying out of the penalty box.
It boils down to emotions–and learning how to keep them in check.
"I think everybody that plays hockey, loves hockey and it's the one thing they do anything for," Savoie said. "So I think it means playing with a lot of emotions. caring about the guy beside me and that, and if he's hurt, I don't like to see him hurt and all that.
So I take penalties on those kinda stuff but it's just to calm down and know that it's better for the team if I don't do anything, if I just stay calm, and go by the next shift and work my ass off."
Samuel Savoie – Future Blackhawks Winger?
Though there's been an improvement, it hasn't opened contract discussions with the Blackhawks–yet. But does that lack of a conversation concern Savoie?
"No, I'm not really worried with that," Savoie said.  "I think it's their decision. They're gonna make that decision and I'm just going to work my hardest and wait for that to come."
But the game that Savoie plays is an important one. Blackhawks Director of Amateur Scouting Mike Doneghey spelled out Chicago's building as finding "traits" that often cycle around speed and skill. But he was candid after the second day of the draft of adding different players across the board.
Savoie might not fit into speed category, but he brings the physical element that every title team needs to get over the top. But he's growing not only into his frame, but into a leadership role that would also work well in the locker room the Blackhawks brass is trying to build.
"I think it was a big year for me this year, kind of being a leader, kind of having younger guys [on the team]," Savoie said.  "I was always a younger guy on my Q teams and all that so I had to be more of a leader. Kinda get that respect from younger guys and all that. So I think that level of maturing helped me a lot."
So budding leadership? Check. A physical element that would give the Blackhawks another dimension to their attack? Check. Improved numbers? Check again.
Don't look now, but if Savoie keeps it up, he might very well find his way in Chicago.
That's certainly no joke.