Andrei Vasilevskiy's Training Regimen Inspires Drew Commesso's Work Ethic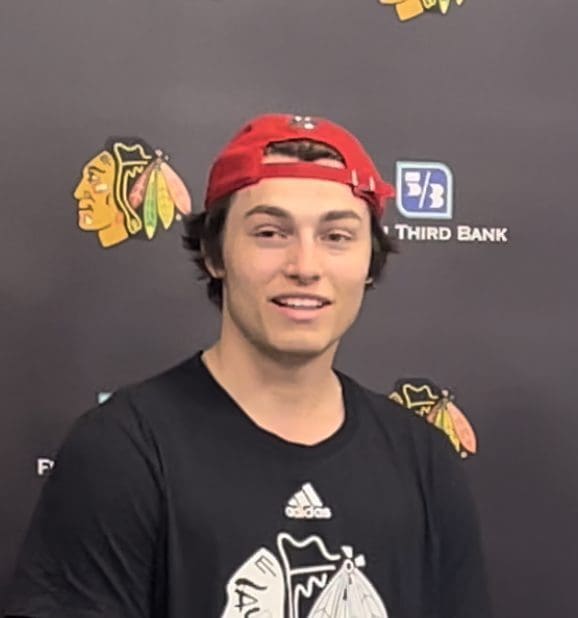 To be the best version of oneself takes diligence, discipline, and sometimes a little bit of research. The latter especially brought Blackhawks goalie prospect Drew Commesso the inspiration for his training regimen. Explaining how he's been ramping up his training, Commesso cited the research he did that led him to an NHL star's strict schedule.
"I took a lot of time researching and I actually found ,Andrei Vasilevskiy when he was coming over to North America, his training regimen," Commesso said. "I said if I could follow that and do a little bit more I should put myself in a good position to start the season and so I've really been ramping it up doing so much more than I ever have.
For me, I'm feeling my best than I ever have. So, I continue doing it and to do everything I can to put myself in the best position to come into camp and play as well as I can."
For Drew Commesso, it starts with Training
The soon to be 21-year old netminder wrapped up his junior season at Boston University but signed on the dotted line to begin his professional career with the Chicago Blackhawks. He'll report to Rockford this fall along with a slew of younger players, beginning the climb for many of Chicago's prospects into the hope that they'll one day wear the iconic Blackhawks sweater.
For Commesso, that strict schedule and regimen will do wonders as he tries to live out his NHL dream. But what, in fact, does Vasilevskiy's regimen entail?
According to Commesso, the main focus of the Tampa Bay goaltender's regimen is taking care of his body. It's a lot of stretching, meditation, and working out. Mobility, Commesso points out, is the key to Vasilevskiy's game so it's something that Commesso seeks to emulate.
"His hip mobility is off the charts, the way he moves and things like that," Commesso explained. "I think that can really help my game. So I try and stretch as much as I can now–right when I wake up. I usually wake up at 5:40, stretch, go to work out."
That's not the end of his regimen, either.
"I've just started this new power yoga class for an hour and a half and it's honestly way harder than skating and working out," Commesso continued.  "So it's really helped me a lot and I have a pretty strict routine at night now."
The end goal?
"During the week, for me right now, I want to be the best. I feel like I'm so driven right now and I'm going to continue to have a great summer."
Heading to Rockford in the Fall
Knowing that the speed of the game ticks up as he jumps from college to the professional ranks, Commesso will also be focusing on his skating beyond the training regimen that he has.
"I think playing at the World Championships and getting to skate with two National Hockey League goalies every single day really taught me how much faster I can get, how fast those guys are," Commesso said. "I definitely learned a lot from them being on the ice with them every single day, picking up their habits and seeing how fast they are."
His quick trip in Rockford last season also served as a lesson for Commesso in just how much he can still grow as a prospect.
Between his Vasilevskiy inspired regimen to his determination to be the best-version-of-himself, Commesso is doing what he can to climb through the Blackhawks ranks. At the end of the day, it's Commesso's work ethic that drives him and could down the road have him patrolling the crease in Chicago.
"For me, it's just really exciting because I know I can get there," Commesso said. "I love to put the work in order to do so."