Blackhawks Prospects Season Previews: Kevin Korchinski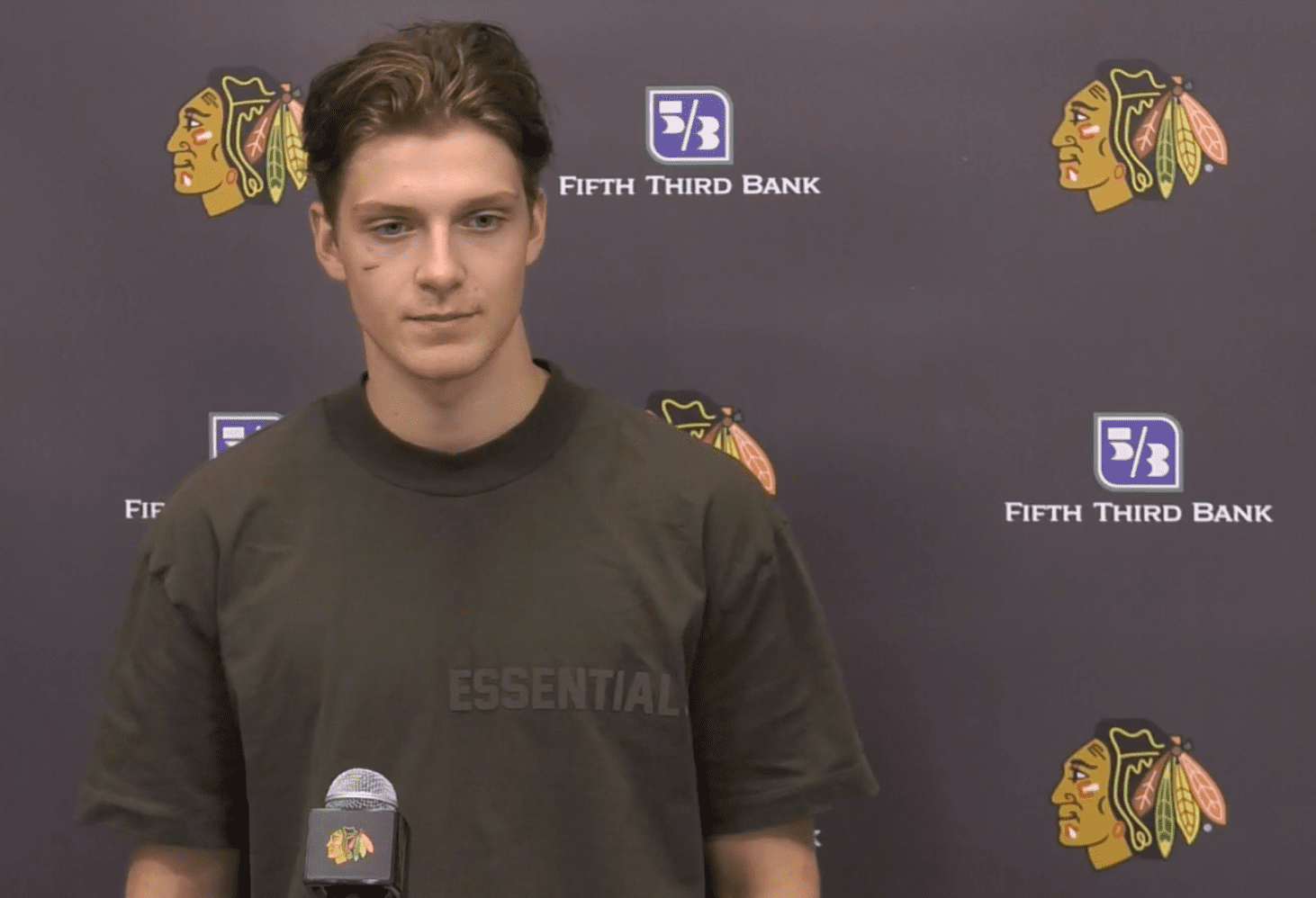 Over the next month, Chicago Hockey Now will have a look at every prospect in the system, where they'll be playing (or projected to be playing), and projections in terms of what the Blackhawks likely want to see from them. Kevin Korchinski kicks off the coverage.
Kevin Korchinski Gets His Chance This Season?
It's already been well documented here at CHN about Korchinski. The best case scenario is seeing him patrol the blue line on a regular basis. In fact, it's probably in both Korchinski's and the Blackhawks best interest that he spends the entire season in Chicago–whether he's skating regularly or not.
It doesn't make much sense that he goes back to the Western Hockey League. He's achieved everything he can possibly do there, which included being runner up in the Memorial Cup Final. Staying in Chicago seems the best bet, burning through a year of his entry-level deal but getting experience with the big club.
There will certainly be a roster jam on the blue line this season. Alex Vlasic, Wyatt Kaiser, and Isaak Phillips will certainly be jockeying for their spots, too.
But if Kyle Davidson is ok with burning that year, which he has made clear he is, it's a fine situation for the Blackhawks. Even if he's a healthy scratch, Korchinski can still watch and learn while being immersed in a professional culture.
But maybe it's just being overly contrarian, but Korchinski likely rates out to be in the top three pairings for the majority of the season if the Blackhawks indeed keep him with the big club.
2023-24 Season Projection
The Blackhawks, in this writer's opinion, are better off carrying him the entire season. Whether on the ice or watching from the box, he stands to gain more from that than playing another season as a big fish in a small pond in Seattle.
So what's the win for Chicago? Finding that Korchinski has a season comparable to those of Duncan Keith and Brent Seabrook during their rookie campaign. That Blackhawks squad was completely different, in a sort of no man's land where they had to put a team on the ice at the start of a new era of hockey but not boasting the franchise or elite talent they'd have until they would draft Jonathan Toews and Patrick Kane in 2006 and 2007 respectively.
During that time, both Keith and Seabrook cut their teeth at the NHL level, endured some tough seasons but still produced to show that they were pieces to build upon, too. Seabrook had 32 points in his rookie campaign while Keith had 21 (9-12) on a team full of veterans nearing the end of their career and others who wouldn't be long term solutions.
Korchinski will have the benefit of starting with Connor Bedard, which would give him that other guy to grow with as they try to accelerate Chicago's rebuild from what looked like a more painful process just a year ago.
But for Every Keith and Seabrook….
There is of course the case of Adam Boqvist, who couldn't stay healthy and has yet to play more than 52 games in a season. His numbers in London were terrific, potting 20 goals in 54 games. Can't miss right?
Before he could even get a chance to really get going, he succumbed to injury and was then included in the trade that brought Seth Jones over from Columbus. Boqvist still hasn't managed to get through a full season.
Maybe it's the outlier. Perhaps the 2017 eighth overall pick will eventually put it together for a full season. But he's definitely the cautionary tale of things not working out exactly as one would seem.
The Measured Prediction: 70 games at least with more minutes as he gets comfortable. Finds himself on the power play and cracks 20 points.
Shoot the Moon Prediction: Double digit goals and top pairing minutes by January
Final thoughts:
Keep him in Chicago and let him learn the ropes. Worst case, send him to Rockford next season for seasoning. But as written earlier in the week, it's time for Korchinski to get a shot in Chicago. The main difference the Blackhawks have now is no reason to rush him.
Boqvist came up during a time where the Blackhawks were having an identity crisis. They needed him to try and fill the void that would soon need to be filled with Keith and Seabrook nearing the end of their careers. The pressure, while still there, was different.
Kevin Korchinski has the chance to fill that void Boqvist couldn't because he has time to grow into the role. There is no rush. Perhaps, as in most things with life, the timing will be everything.