Next-Man-Up Colton Dach Steps Up Big in Blackhawks Victory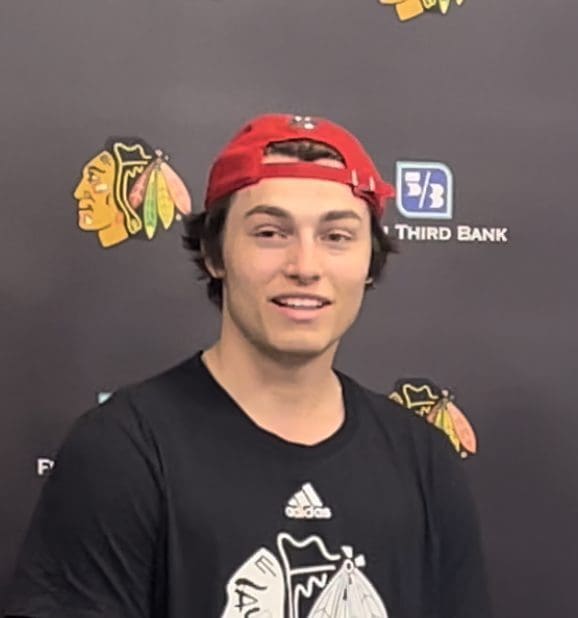 When Ryan Donato was unavailable for the Chicago Blackhawks due to injury,  up came Colton Dach to fill the void.
Maybe it'll keep him from going down to the AHL for a little longer, too.
Dach logged big minutes, had bigger hits, and even fired a few on net. Whether it's tussling with riled-up Red Wings or making a quick pass to lead a rush, Dach drew attention for all the right reasons with head coach Luke Richardson.
Colton Dach is on the ice for warmups.

He originally wasn't supposed to play tonight, but I imagine he's taking the spot of Ryan Donato, who's a late scratch because of a groin injury. #Blackhawks

— Charlie Roumeliotis (@CRoumeliotis) October 4, 2023
Richardson Bullish on Dach
"I was impressed with him from day one of the rookie camp this year," Richardson said. "Physical, engaged on the bench, engaged on the ice, plays a hard role with some rugged guys, or go out there and play with skilled guys. [He's] very versatile and very aware, really listening and any info you that you've given him he's taking it and putting it into his game plan."
Just a few months ago, Dach's game grew stronger as the Seattle Thunderbirds advanced in the Western Hockey League playoffs, eventually capturing the title. But it was in the Memorial Cup where Dach embodied everything Richardson has seen in Chicago. Dach potted the game winner and at times played the role of scorer or piano player, whatever the Thunderbirds needed in the game.
Big hits. Smart plays. The ability to play in any situation. Dach is a swiss army knife of sorts, and it's found its way all the way to Chicago. Logging 16:32 of ice time, a good 16 seconds more than Connor Bedard, Dach passed another test in a big way Tuesday night.
Colton Dach Likely Starts in Rockford Start…Then Again….
Dach's likeliest route is west to Rockford but a performance like this certainly gives pause. Might he hang on a bit longer–even through to the next week's opener against the Pittsburgh Penguins on the road?
Perhaps. The greatest luxury the Blackhawks have is time and even if it's a tie-goes-to-the-veteran like finish, it sure seems like there's a strong chance Dach is back in Chicago sooner rather than later. In limited time in regular season play last year due to injury, Dach finished 23 games with 27 points (12-15) between Kelowna and Seattle. Add in 14 points in 19 WHL playoff games, with three being in the net, and it's certainly not out of the question that getting on the scoresheet might keep Dach in Chicago a few games longer.
With two preseason games left, Dach can leave it all out there, much like he did in the playoffs last season.
But maybe his biggest vote of confidence comes from his coach.
"I really like what I see," Richardson said.