Blackhawks Prospects Report: Frank Nazar Goes Nuts On Sweden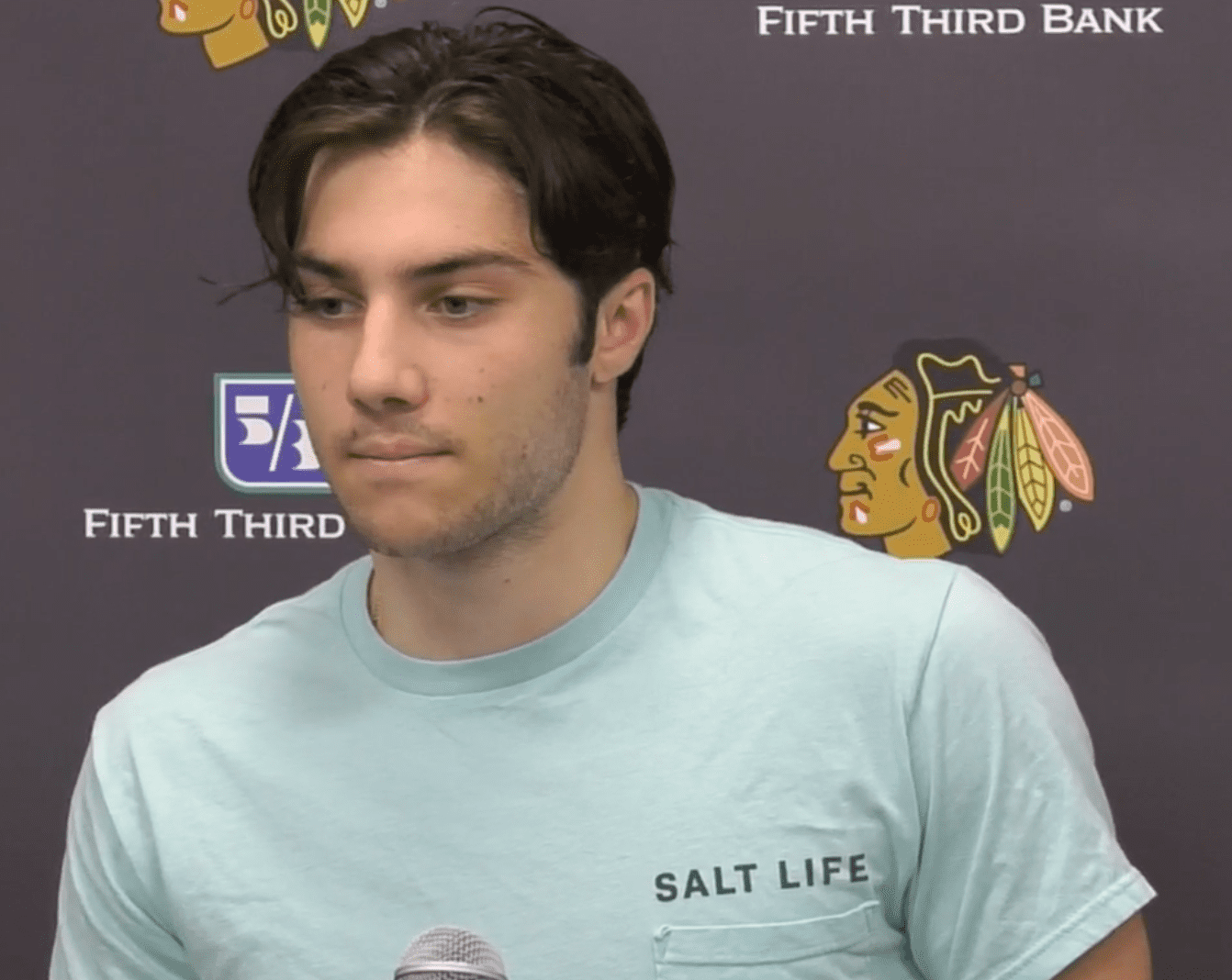 Remember how everyone was wondering about how Frank Nazar would look after spending most of last season recovering from injury. When he did come back, even he admitted he wasn't completely himself. But he did admit he was doing better.
"I feel really good now," Nazar said during development camp. "Each game I felt like I got better and better. I was happy I was able to help the team at that time of the year, and I'm glad I was able to get those games in."
So are the Blackhawks after watching the speedy forward depositing pucks into the net against Sweden Monday night.  Nazar netted four goals and added an assist as the US White team absolutely blasted Sweden 10-1.
Frank Nazar stole the puck, went on a breakaway and scored to make it 10-1.

Fourth goal, fifth point of the night for the Chicago Blackhawks prospect. #WJSS pic.twitter.com/rdAnX88HBZ

— Steven Ellis (@SEllisHockey) August 1, 2023
Nazar Another Speed Option Down the Middle For Chicago
The University of Michigan center was taken 13th by the Blackhawks in the 2022, nearly the opposite of the burly forward Chicago traded to get him in Kirby Dach. Nazar was an analyst's darling, a forward who rocketed up the draft board projections heading into the day and it wasn't a surprise when Chicago took him. He fit the mold, especially seeing what general manager Kyle Davidson has done and said since, in shaping the new core.
Nazar's freshman campaign at Michigan was derailed by a hip injury that kept him at bay. But the time spent recovering and watching taught the kid a few things in another way.
"I definitely think the mental side of the game definitely had a big aspect of learning growth," Nazar said. "Being able to figure out how to use my brain and kinda keep my head in the game and  just get better to just know I'll figure things out."
Bursting Back Onto The Scene
Nazar was slotted as the top line center for the US White team heading into the game and he didn't disappoint. In fact, he beat Sweden by himself when he potted his second goal of the evening, though the Americans were already up 5-0. A look at the goal shows Nazar fly into the zone and Sweden's defenders flailing to pick him up. After Isaac Howard dropped it back to him, it was in the back of the net before anyone could react.
2nd goal of the night for Frank Nazar, and he absolutely HOUSED this one! #Blackhawkspic.twitter.com/mshUogII6j

— Talkin' Hawkey (@TalkinHawkey) August 1, 2023
"I think about just getting better each year," Nazar said. "I didn't go right in after I got drafted–I wanted to get better and go and play at Michigan. So I think it's a good way for us guys who need a couple more years to get ready–to get bigger, stronger, faster and just work our way into the group."
Like the speed that got him drafted, he may be swiftly heading to Chicago if these performances become the norm.