3 Blackhawks Prospects Make NHL Network's Top 50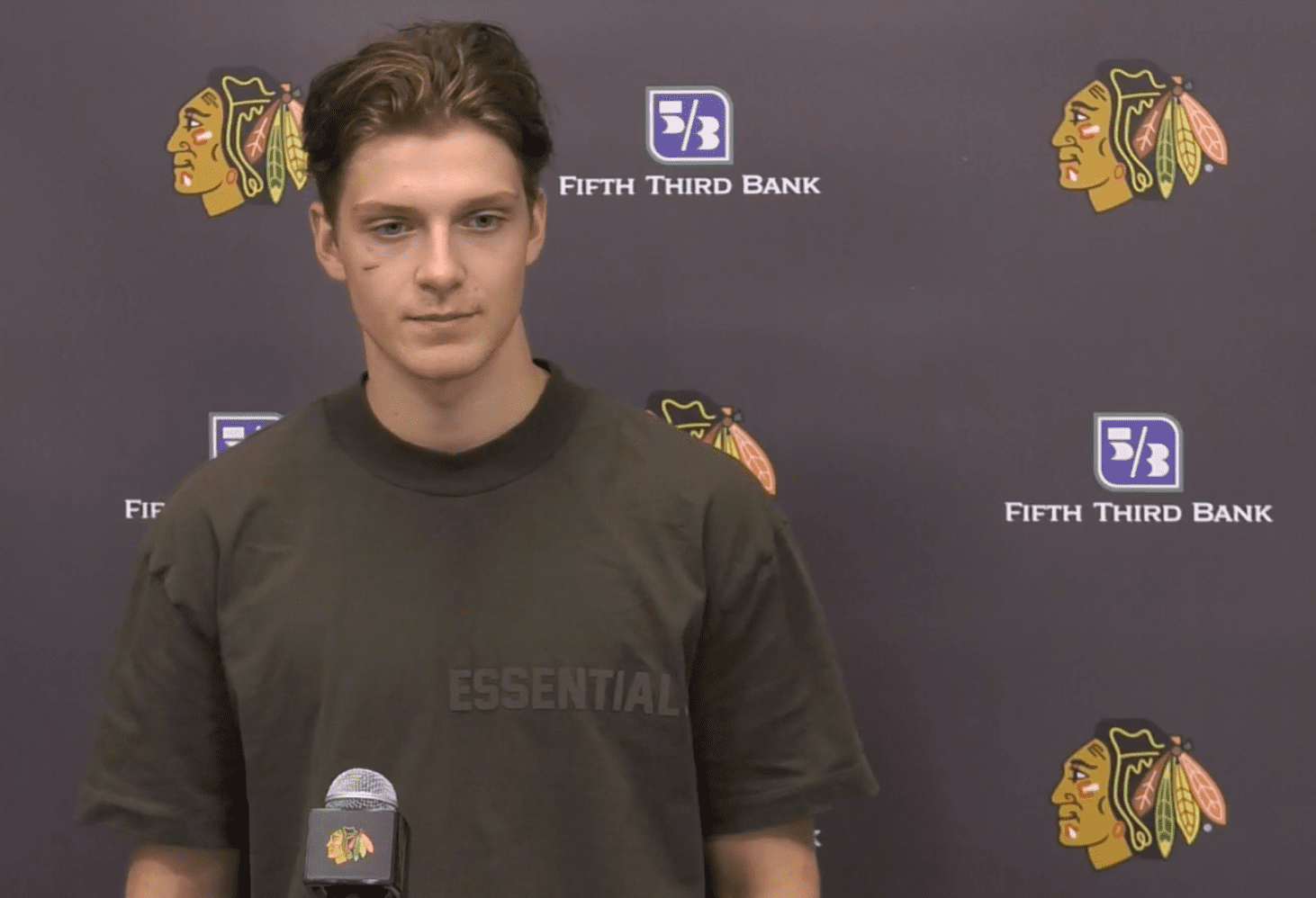 I'm going to argue they're wrong. But maybe spending a month crunching statistics, strategies, and leagues will do that. The NHL Network Ranked the Top 50 Prospects in the league and suffice it to stay the three Blackhawks included, outside of Connor Bedard, was a little surprising.
Let's dive in, knowing that the prospects are those 25 and under with less than 25 NHL games.
Bedard Sits At the Top
No shocker here. He won't be on the list for very long either as there's nothing left for him to accomplish at the junior level. It shouldn't be of concern–at this point, most are betting on how many points he'll have in his rookie campaign while betting on his odds of winning the Calder. From there, the top ten shakes out as most would expect. But it's very heavy in the last two drafts.
From there though, the Blackhawks see a bit of a gap from Bedard to their other two remaining. Kevin Korchinski clocks in at #33 and Oliver Moore at #35. Frank Nazar isn't included on the list and neither is Drew Commesso, who was a selection for the US team in the World Championships back in June.
But how does it break down from an organizational standpoint?
22 of the 32 NHL Teams Make the List
It's an interesting mix of teams on the list, and rebuild teams clearly have the edge with more prospects. But there are some surprises. Three teams tied for the most prospects on the list–Buffalo, Columbus, and Nashville with four aside. Columbus has two prospects in the top ten (Adam Fantilli, and David Jiricek) while Buffalo is pretty evenly distributed at #19, 27, 28, and 30.
New Jersey, who took a huge step forward last season, has two top-ten prospects that will only bolster their depth. But the Arizona Coyotes, who have seemed to be in a never ending rebuild, have just one. Nashville was surprising as well, boasting four prospects while Anaheim has three in the top 25.
Many will graduate and other names will rise. Of course, it's subjective, too. The Blackhawks are still impressive with its three, but it's likely more of the names next season with Moore could be Nazar, Drew Commesso, Gavin Hayes, or Nick Lardis among others.
What the list does reveal is that even tanking doesn't guarantee that quick turnaround. In a piece tomorrow, we'll look at the teams with multiple picks, where they are in the rebuild, and how they assembled it. While it's subjective from the NHL Network, it's an interesting look at how things work or sometimes don't work in the way expected.
NHL Network Top 50 Prospects Breakdown By Team
Teams with Four Prospects on the List
Columbus Blue Jackets (2, 8, 40, 47)
Nashville Predators (22, 34, 38, 45)
Buffalo Sabres (19, 27, 28, 30)
Teams with Three Prospects on the List
Blackhawks (1, 33, 35)
Anaheim Ducks (3, 16, 23)
Philadelphia Flyers (4, 9, 49)
Minnesota Wild (21, 37, 41)
Calgary Flames (29, 43, 48)
St. Louis Blues (31, 32, 46)
Teams with Two Prospects on the List
New Jersey Devils (5, 7)
San Jose Sharks (10, 24)
Detroit Red Wings (11, 25)
Dallas Stars (12, 42)
Seattle Kraken (15, 50)
Montreal Canadiens (17, 26)
New York Rangers (36, 44)
Teams with One Prospect on the List
Arizona Coyotes (6)
Los Angeles Kings (13)
Toronto Maple Leafs (14)
Washington Capitals (18)
Carolina Hurricanes (20)
Ottawa Senators (39)
More Prospect Coverage: